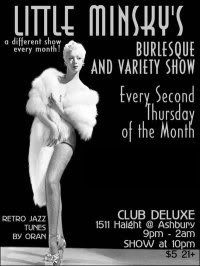 Burlesque and cabaret icon
Kitten on the Keys
will be one of the fine performers this coming Thursday at
Little Minsky's Burlesque and Variety Show
at
Club Deluxe
in San Francisco.
Kitten on the Keys has been recently seen in the French film
Tournée (On Tour)
starring and directed by Mathieu Amalric, who won "Best Director" at this year's Cannes Film Festival for that film. She's also been mistress of ceremonies at the Burlesque Hall off Fame's Weekend, the New Orleans Burlesque Festival, and Tease-O-Rama. She's performed in her own one-woman show, and has graced many, many of the Bay Area's stages. In fact, before this show, she'll be performing at the
Madrone Art Bar
from 6-9 p.m., 500 Divisadero Street in San Francisco. She's a busy kitty! See her site at
kittymusic.com
for her show calendar and information about how you may buy her CDs!
Also on the bill are such local burlesque talents as
Vienna la Rouge
,
Miss Balla Fire
, and
Alotta Boutté
! And there's more talent, almost too much for one Thursday evening. What am I saying? There's never such a thing as too much talent! Bring it on,
Douglas Good
! And to think that you get everything for just a $5 cover charge. It's a real entertainment bargain!
It's a true burlesque and variety show at Little Minsky's. If you've never been, you owe it to yourself to get down to Club Deluxe this Thursday to see what the fuss is all about!
Ladies and gents it's

Little Minsky's

time, so get set for another night of luscious ladies, toe-tapping tunes, tasty tonics and saucy shenanigans. For your listening pleasure, we have the vivacious and vixenish cabaret chanteuse Kitten on the Keys, ragtime crooning and ukulele strumming from the charming Dimestore Dandy and inventive melodious musings from velvety vocalist Lily Taylor. And presenting her own unique style of the... art once known as la danse du ventre, we have the fabulous World Fusion belly dancer Wendy Marlatt. As for the sparkling burlesque beauties there's the glamorous and gorgeous Vienna la Rouge, the scorching seductress Miss Balla Fire, the ravishing Alotta Boutté, devastating Dottie Lux and scrumptious Sid Scenic.

Let's get those cocktails shaking, commence the carousing and enjoy the show...

-----------------------

LITTLE MINSKY'S

BURLESQUE
Vienna la Rouge
Miss Balla Fire
Alotta Boutté
Honey le Bang
Dottie Lux
Sid Scenic

VARIETY
Kitten on the Keys
The Dimestore Dandy
Wendy Marlatt
Lily Taylor

DJ
Oran - swingin' retro tunes

Thursday, September 9th
Club Deluxe
1511 Haight St (at Ashbury), San Francisco
9pm - 2am, Show at 10:00pm
$5, 21 and Up

--- Every Second Thursday ---

Performer Info:
Vienna la Rouge - http://www.viennalarouge.com/
Miss Balla Fire - http://www.myspace.com/missballafire
Alotta Boutté - http://www.myspace.com/alotta
Honey le Bang - http://www.kittykittybangbang.com/honey.html
Dottie Lux - http://www.dottielux.com/
Kitten on the Keys - http://www.suzanneramsey.net/
The Dimestore Dandy - http://www.myspace.com/thefriskyfrolics
Wendy Marlatt - http://www.rashanitribal.com/
Lily Taylor - http://www.myspace.com/thelovelylily

Little Minsky's is brought to you by Douglas Good (of Cabaret Verdalet) and several dry martinis.


http://www.myspace.com/little_minskys

http://www.sfclubdeluxe.com/