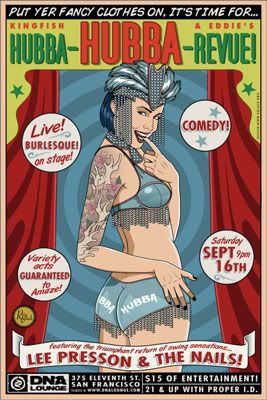 The
Hubba Hubba Revue
is celebrating their fourth year anniversary this Friday night at the
DNA Lounge
in San Francisco!
Can you believe it's been four years? The show doesn't look a day over two! The first Hubba Hubba Revue show was on September 16, 2006. There's a copy of the the first show's flier to the left. You'll notice that the cover is still $15! And believe me, it's even more of a bargain today. If you'd like to see some pictures from that show, there are some at
dnalounge.com
. You'll see that not much has changed in the intervening years. Wait... does Kingfish have hair in those pictures?!?!
During the past four years, Kingish and Eddie's Hubba Hubba Revue has consistently put together the largest and most entertaining burlesque and variety shows west of the Mississippi. The shows not only feature sexy women performing striptease, but also daredevils, comedians, aerialists, rock bands, jazz vocalists, magicians, swing bands, and many other acts that you probably would not otherwise see in your day-to-day lives.
And this Friday's show promises to be one of the biggest, sexiest, and most exciting yet! It's often said that a show will feature an all-star lineup, but this show will truly deliver! The
Hot Pink Feathers
, the
Twilight Vixen Revue
, the
Diamond Daggers
,
Sparkly Devil
,
Mynx d'Meanor
,
Alotta Boutté
,
Delilah
,
Flame Cynders
... the list of Bay Area burlesque stars performing this Friday goes on and on!
Some of the acts that performed on that historic Friday evening in 2006 will be back this Friday!
Roxy Shocks
, The Twilight Vixen Revue, Flame Cynders,
Gorilla X
, and Mynx d'Meanor will all be returning to the DNA Lounge stage for this four year reunion.
It will be a night not to be missed if you're a fan of burlesque in the San Francisco Bay Area this weekend. So get your tickets at
dnalounge.com
, or get to the box office early on Friday evening to take advantage of the discounted $10 tickets. This is one show that is sure to be very popular!
See you there!
Pop That Cork, It's Time For...



The Hubba Hubba Revue: *4-YEAR ANNIVERSARY SPECTACULAR!*



Friday September 17th 9PM
...
Can ya believe it? It's been 4 YEARS since Hubba Hubba first took the stage at DNA Lounge! So to celebrate the birthday of the Biggest, Wildest Burlesque Show ever, we're putting on... The BIGGEST, WILDEST BURLESQUE SHOW EVER!!

CHECK OUT THIS INCREDIBLE *ALL-STAR* LINE-UP!

THE HOT PINK FEATHERS!
Kitty Kitty Bang-Bang!
Wiggy Darlington & Vima Vice Squad!
The Twilight Vixen Revue!
The Diamond Daggers!
Rubenesque Burlesque!
Sister Kate!
Trapeze Artist Cameron McHenry!
Your Little Chernobyl
Ariyana La Fey!
Honey Lawless & Gigi d'Flower!
Roxy Shocks & Johnny Angelhorn!
The Mighty Cerebreau!
The Vicar of Liquor!
Bunny Pistol!
Madam Chartreuse
Calamity Lulu!
Sparkly Devil!
Mynx d'Meanor!
Casey Castille!
Alotta Boutte'!
Delilah!
Flame Cynders!
Lady Satan!
Miss Balla Fire!
Gorilla X!

...and the Hubba Hubba Celebration Go-Go Squad!

AW-WHAT-THE-HECK DISCOUNT: from 9:00PM-9:30PM, tickets at the box office are just $10!

HELP SPREAD THE WORD, LOYAL FRIENDS OF HUBBA!

Hubba Hubba Revue: 4-YEAR ANNIVERSARY SPECTACULAR!
Friday, September 17th, 9PM
DNA Lounge, 375 Eleventh Street, SF
$15, 21 & Up w/valid ID
($12 advance tickets at http://www.dnalounge.com )

-----------------

See more at: http://www.hubbahubbarevue.com/


Become a Hubb! Join the Hubba Hubba Facebook Army!
http://www.facebook.com/group.php?gid=22983060922

Twitter updates from the Secret Lair of Comrade Tang! @hubbahubbarevue