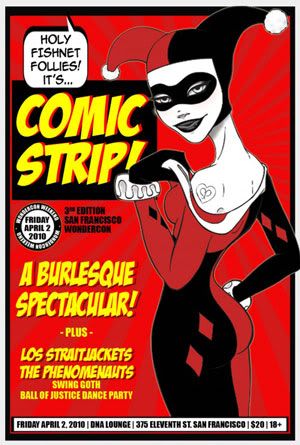 Whether you'll be in San Francisco or Oakland this Friday, there will be burlesque shows on both sides of the Bay celebrating the comics/science fiction/fantasy cultures! In case you missed the news,
WonderCon
is happening this weekend, and so the shows will be drawing attendees from this huge convention happening at Moscone Center South in San Francisco.
In San Francisco at the
DNA Lounge
,
Fishnet Follies
is presenting, COMIC STRIP! in conjunction with The Ball of Justice, which is presented by
Swing Goth
.
I know
Mynx d'Meanor
and her Fishnet Follies presented previous versions of COMIC STRIP! in San Diego at the same times as
Comic-Cons
. But this year they've teamed up with Swing Goth for what is sure to be the must-see event of Friday night in the City.
Your favorite Bay Area burlesque performers, such as
Bunny Pistol
,
Kiss Me Kate
,
Casey Castille
,
Lady Satan
,
Flame Cynders
(Fishnet Follies co-producer) and Mynx herself, will be in costume as some of your favorite comics characters. The burlesque show will be at approximately 11pm.
Before and after, there will be live music from Grammy-nominated surf rockers
Los Straitjackets
and futuristic sci-fi band
The Phenomenauts
! Plus there will be music from DJs Melting Girl (Death Guild and 1984), Skip (New Wave City), Shatter (Bondage-a-Go-Go), and MzSamantha (Clockwork). Early in the evening, there will be dance lessons provided by Swing Goth!
Judging by the response to the
Ball of Justice Facebook event page
, this looks like it'll be a very popular show. It's unique, and it sounds very fun! Mynx and Flame have worked very hard on Fishnet Follies' second show in the Bay Area, and Brian Gardner of Swing Goth has done a terrific job putting together the bands, DJs, and handling everything else!
You can purchase advanced tickets at
dnalounge.com
for $16 if you want to be sure to get in. Tickets will be $20 at the door. And if you'll be at WonderCon on Friday, there will be $15 discount tickets at the Swing Goth booth.
Here are the details:
Surf-rockin' Luchadores, intrepid space explorers, superheros and dancing!

What more could you want from your Wondercon weekend? I know. How about a super hero themed burlesque show? Fishnet Follies Burlesque Revue presents COMIC STRIP! - a burlesque spectacular set between the bands!

Buy tickets now: http://www.dnalounge.com/calendar/2010/04.html#02

The night is headlined by Grammy nominated, CoCo regulars: Los Straightjackets! Donning the guise of masked Mexican wrestlers to protect their identity, these surf rockin' do-gooders lead the never-ending fight for your right to party!

On April 2nd they team up with heroic space explorers, The Phenomenauts, whose ship is powered by a rock'n'roll super-collider that smashes Rockabilly particles headlong into New Wave sound. Together they will vanquish your Friday night doldrums.

And sidekicks can get their kicks on the side with some of the best DJs in SF:

Melting Girl (Death Guild and 1984)
Skip (New Wave City)
Shatter (Bondage-a-Go-Go)
MzSamantha (Clockwork)

Fishnet Follies Burlesque Revue presents COMIC STRIP!
Starring:
Bunny Pistol!
Casey Castille!
Flame Cynders!
Kiss Me Kate!
Lady Satan!
Mynx d'Meanor!
... with special guest:
Dizzy Von Damn! (Miss Viva Las Vegas 2008)

And hosted by Hubba Hubba Revue's MC Kingfish!

Early in the evening, dance lessons are provided by Swing Goth! Now bi-coastal in SF and NYC, Swing Goth has been recognized by SF Bay Guardian as one of the "Best of the Bay." Forget the footwork, partner dancing is about connection to your partner and feeling the music and we've re-designed our instruction to focus on just that!

As an organization dedicated to partner dancing to modern music, we believe you don't need to listen to your grandparent's music to have fun dancing like they did. Read more about us and past events at http://www.swinggoth.com or puruse the links below for prior press coverage.

Don't want to partner dance? No problem, DNA Lounge has two levels of music and dancing, but don't miss this ball, or you'll regret it!


Friday, April 2, 2010
DNA Lounge
375 Eleventh Street
San Francisco, CA
Doors 7:30PM / Burlesque 11PM
$16 Advance (Buy tickets now: http://www.dnalounge.com/calendar/2010/04.html#02)
$20 Door
18+


http://www.fishnetfollies.com

http://www.swinggoth.com

http://www.dnalounge.com
If you're over on the east side of the Bay Bridge and you don't want to trek over to San Francisco to see a burlesque show, First Friday Follies will be happening at the Stork Club in Oakland!
This month, they'll also be featuring a science fiction kind of theme. You can tell by the way they describe the show. And their musical guests will be
The Final Frontiersmen
and
Victoria and the Vaudevillains
! It'll be time to rock out with your Spock out! The stars of the show will be
Twilight Vixen Revue
,
Pin Key Lee
, Cupcake and Little Eyeful, and Bitter Waitress! All wrangled by your Lieutenant of Laughs,
Margaret France
. Engage!
April Follies will rule, no foolin'!

We've got talents that boldly show where no man has gone before and a prime directive to rock the eff out.

Designated Rock Stars
Victoria and the Vaudvillains!

More Music by the Federation's Finest
The Final Frontiersmen!

Performances from
The Twilight Vixen Revue!
Pin Key Lee!
Cupcake and Little Eyeful!
Bitterwaitress!

and a special birthday edition of
Amateur Hour!

Hostessed by the Follies own
Margaret France!

Cleaned and Preened by the stunning
BB Dahl!

As always, we run on YOU!

No cover, but donations go to feeding the girls and funding our long-awaited sequel to April Fool's Day, April Fool's Day 2: Curly From the Noose.

First Friday Follies, Friday April 2, 2010
9:30pm
The Stork Club
2330 Telegraph Avenue
Oakland, CA

21+ w/ID


http://www.myspace.com/firstfridayfollies

http://www.storkcluboakland.com