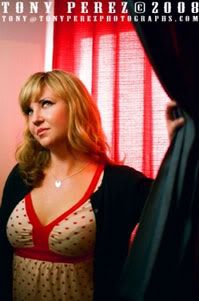 Bombshell Betty Burlesqueteer and Academy of Art University alumnus
Jessica "Tink" Whiteside
returns from Southern California for her the opening of her new solo exhibition,
Innocence Perceived
, at Gallery Three in San Francisco this Saturday, March 6.
The gallery is just across the street and around the corner from the Great American Music Hall, so if you're headed to Cabaret Verdalet (see
previous post
), drop by before the show!
I've always been a fan of Tink's work. Though her paintings are lovely to look at, there's often a message lurking beneath the bright colors and pin-up prettiness of the subjects within the frames, infusing them with a kind of tension.
As you can see from the samples below, her work is influenced by the neo-burlesque movement. Animals, weather elements, and men often surround the heroines of Tink's work, and play a prominent part in the viewer's interpretation of her work.
I'm looking forward to seeing the whole of her exhibition in person. I was a big fan of "Pin It Up, Babycakes" (see
previous post
), an exhibition of pin-up art that she co-curated with Alice Stribling last year, which was a big success.
The exhibit will be at Gallery Three until March 27. A catalog of Tink's works on display is available for viewing at
www.shootinggallerysf.com
. For more information, please contact the gallery at the number and website listed below.
Hope to see you at Gallery Three this Saturday!


Innocence Perceived -- New Works by Jessica "Tink" Whiteside

Gallery Three is proud to present Innocence Perceived - new works by artist Jessica 'Tink' Whiteside. This exhibition will feature new mixed media paintings, sculptures, a video installation piece, and a few opening night surprises.

Innocence Perceived investigates a culture clash which began in America in the 1950's - revolving around American sexual identity, media influence on society, and a divide between traditional and progressive values. While mainstream media painted a picture of domesticated female roles and polite innocence, an alternative movement was gaining steam. The show peeks behind the veil of innocence perpetuated in mid-century advertising and propaganda.

About the artist: Jessica's vivid paintings and unique feminine style have put her in the spotlight in the Neo-Burlesque art scene. Over the past few years, her art has been exhibited in a growing number of solo and group shows on the West Coast. In addition she has curated several exhibitions, ran the San Francisco chapter of Dr. Sketchy's workshop, and made many appearances on stage as a bedazzled burlesque performer.

About Gallery Three: Gallery Three was founded in 2007 by Justin Giarla, as an experimental space to show upcoming artists. Already being the owner of two galleries in San Francisco, The Shooting Gallery and White Walls Gallery, Giarla opened Gallery Three with the intention of expanding on the genres of Urban and Outsider Art. Gallery Three is located upstairs at White Walls Gallery on Larkin Street.

Gallery Three
835 Larkin Street
San Francisco, CA 94109
1.415.931.8035

Opening reception 7pm to 11pm

Info at http://www.gallerythreesf.com


For Purchase / Inquiry contact:
Owner: Justin Giarla or Gallery Director: Leigh Cooper
Phone: (415) 931-1500


http://www.JessicaWhiteside.com

http://www.gallerythreesf.com