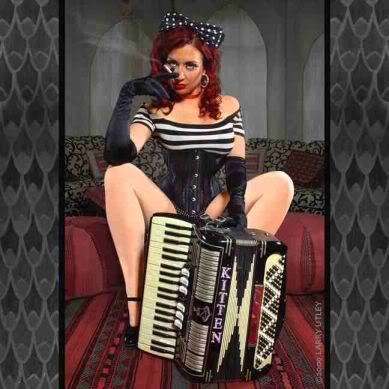 If you're a burlesque fan in the San Francisco Bay Area, odds are you've seen Kitten on the Keys in action. She's been an emcee at
Tease-O-Rama
and the
Burlesque Hall of Fame Weekend
, performed in her own one-woman show, been named
SFBG's Best of the Bay
singer-songwriter, and been featured in many, many burlesque and cabaret shows around the Bay.
In the next week, she'll be performing in several venues and shows. One of the cool things about that is you get to see her perform in front of different audiences and environments. Although some of the songs are the same, she tailors her performances to the varying situations. (Note that all of the following events are 21 and older, though, so you've got to be of drinking age.)
For example, this Thursday, she'll be performing on the piano during happy hour (6-9pm) at
Madrone Art Bar
in San Francisco. This is a free show, and you'll see and hear as she "...tickles the ivories and croons decadent songs of yesteryear. Unearthed Tin Pan Alley Treasures with a twist." A great time for not much dough! Plus there will be Salsa dancing lessons afterwards at 9, followed by DJ dancing. Madrone Art Bar is located at 500 Divisadero Street.
On Friday, she'll be playing the piano for David J. of Bauhaus and Love and Rockets fame at
Trannyshack
at the
DNA Lounge
. It'll be a David Bowie tribute night, so you'll get to see Kitten perform some Bowie songs with one of goth rock's legends. What a treat! Also performing will be Fauxnique, Vinsantos, Kiddie, Elijah Minnelli, Suppositori Spelling, Kim Burly, Mercy Fuque, Falsetta Knockers and an exclusive set by electro sensations Ejector! DNA Lounge is located at 375 11th Street in San Francisco. Doors open at 10pm, show is at midnight. Tickets are $12 and are available online in advance at
dnalounge.com
.
Then on Monday, Kitten will be
Hubba Hubba Revue's
show at the Uptown Club in Oakland. I'm guessing that if she plays a piano, it'll be her portable Hello Kitty one! There might also be ukulele and accordion-playing, too. Also on the bill that night are Sid Scenic, Casey Castille, Ariyana La Fey, Eeyore the Clown, and birthday girl Bunny von Tail! The Uptown is located at 1928 Telegraph Avenue. Doors open at 9pm, show is at 10:15ish. Tickets are $5.
On March 29, she'll also be performing in an Easter show with the Sid Scenic. There aren't any other details yet, but when they're available you will find them on Kitten's website,
kittymusic.com
.
So check out some of her shows. I guarantee you'll have a "meow-velous" time! ;-)