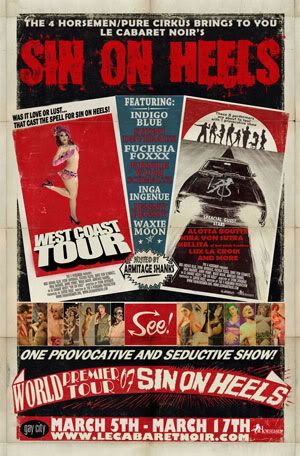 This Wednesday, you'll have an opportunity to see many of Seattle's finest burlesque performers as Le Cabaret Noir's
Sin on Heels
tour comes to Broadway Studios in San Francisco!
Miss Indigo Blue
,
Sydni Deveraux
,
Fuchsia FoXXX
,
Waxie Moon
,
Inga Ingenue
, and
Ernie Von Schmaltz
, Jenny Penny are performing in the show. You may remember some of them from the documentary,
A Wink and a Smile
(2008).
Also included in the cast for this San Francisco show are local burlesque luminaries
Alotta Boutté
and Kellita of the
Hot Pink Feathers
!
It's a great opportunity to see some of Seattle's finest performers without having to travel to Seattle.
Miss Indigo Blue
is the headmistress of the
Academy of Burlesque
and has performed on stages across America and Europe and is one of the most recognizable names in burlesque today.
Sydni Deveraux
is known as the Golden Glamazon for good reason! In person, she's amazingly tall, golden, and glamorous. Plus she's very talented, as she's the director of this show as well as a performer.
Fuchsia FoXXX
has been voted Seattle's sexiest bellydancer and burlesque dancer in 2007 and 2008, respectively. She's also known as the "Hot Pink Exotic Machine." If you've seen her perform live, you'll know why!
When it comes to boylesque,
Waxie Moon
is unique. A classically trained actor and dancer, Waxie came to the world of neo-burlesque and put his own stamp on it with his performances. He's also the star of his own documentary,
Waxie Moon
(2009). He doesn't make it down to San Francisco that often, so catch him while you can!
When you think of "Little Blonde Bomb," who do you think of? Why, it should be
Inga Ingenue
! She's performed as a Reigning Queen of Burlesque (formerly Miss Exotic World) competitor at the Burlesque Hall of Fame Weekend in Las Vegas, at the Amsterdam Burlesque Festival, and the Vancouver International Burlesque Festival, among many others. She's also been an instructor at Miss Indigo Blue's Academy of Burlesque.
Is it Elsa or
Ernie Von Schmaltz
? You can tell it's Ernie by the gold chains, bushy mustache, and pot belly hanging over his polyester leisure suit pants! His performances as a "ladies man" are hilarious. But I've always wondered what Elsa thinks of him...
Jenny Penny rounds out the cast, and Armitage Shanks will be your host for the evening.
It looks like a great show, and $20 is a lot less than plane fare to Seattle! $25 VIP seating and a $45 dinner package are available, and may be purchased in advance at
Brown Paper Tickets
.
Sin on Heels
will be at the Broadway Studios in San Francisco for one night only. Broadway Studios is at 435 Broadway, between Kearney and Montgomery. Seating will begin at 7pm for those with dinner tickets, 7:30 for those with VIP tickets, and 8:00 for the general audience. The show is scheduled to begin at 9:00, and is approximately 90 minutes long.
For more show information, please visit
http://www.lecabaretnoir.com
.


SIN ON HEELS: THE PROVOCATIVE AND SENSUAL SIDE OF THE 4 HORSEMEN/PURE CIRKUS TO TOUR THE WEST COAST MARCH 2010, SPONSORED BY GAY CITY

Le Cabaret Noir's "SIN ON HEELS", the provocative and sensual side of The 4 Horsemen/PURE Cirkus Productions, is a tantalizing cabaret-style production with a tawdry blend of burlesque and gender-bending performances. Audience members are asked to leave all inhibitions behind and let loose as this adult themed, 90-minute show takes them on a sultry thrill ride, bursting with sensational sexy performances and risque humor. Merging the traditional with the newest forms of theater entertainment, "SIN ON HEELS" will be presented in theaters up and down the west coast this March 2010.

Part drag, part burlesque, part cabaret, "SIN ON HEELS" takes a daring playful approach by delving into the full array of human sexuality, sensuality and gender. The show brings to life a variety show of arousing humor, natural beauty, and challenges of gender differences while celebrating the universal pleasures of eroticism.

Cast members include:
Miss Indigo Blue
Sydni Deveraux
Fuchsia Foxxx
Waxie Moon
Ben De La Creme
Inga Ingenue
Jenny Penny
Ernie Von Schmaltz
and host Armitage Shanks.

Also joining the cast in San Francisco will be Kellita of the Hot Pink Feathers and Alotta Boutte.

$20 general admission, seating at 8pm

$25 VIP seats, seating at 7:30pm

$45 VIP seats and dinner, seating at 7pm

Show begins at 9pm

21+ w/ID

Advanced tickets available at http://www.brownpapertickets.com/event/91282

For more information on ticket prices and show details visit, http://www.lecabaretnoir.com

Le Cabaret Noir's "SIN ON HEELS"
Directed by: Sydni Deveraux
Produced by: The 4 Horsemen/PURE Cirkus (http://www.the4horsemen.org)


Broadway Studios
435 Broadway @ Kearny - North Beach
San Francisco, CA 94133


http://www.lecabaretnoir.com

http://www.broadwaystudios.com