Bombshell Betty and Fromagique presents All Kinds of Sexy™ Burlesque Benefit Show!
Tuesday, Feb. 8th, 2011
Love!
Burlesque acts by:
Bombshell Betty!
Vadge O'Foner!
Lezzie McFaggerson!
Pickles Kintaro!
Pearl E. Gates!
Dangerous Delilah!
Red Velet!
Violet Streak!
Mint Julep!
Tasty Temptress!
Carlita Cupcake!
Pyro Pantera!
Kinky D'Orleans!
Baby Blue Boom Boom!
Cinnamon Stick!
Andi Stardust!
MC's Patina DeCopper and A. Randy Johnson
With live musical accompaniment by San Francisco's cheesiest band:
FROMAGIQUE (Bombshell Betty, Patina DeCopper, A. Randy Johnson, B.J. Johnson (no relation), Bari D. Hatchet, and Damon Hope)
* * *
Tues. Feb. 8th, 2011
@ The Elbo Room
647 Valencia St (2 blocks from 16th St. BART,
map
)
Doors @ 9PM Show 9:30PM
21+ W/ ID
$10 General Admission
$40 Table for two
Advance tickets available at
http://www.bombshellbetty.net/shows.html
* * *
http://www.bombshellbetty.net
http://www.myspace.com/fromagique
http://www.elbo.com
Séduction Féroce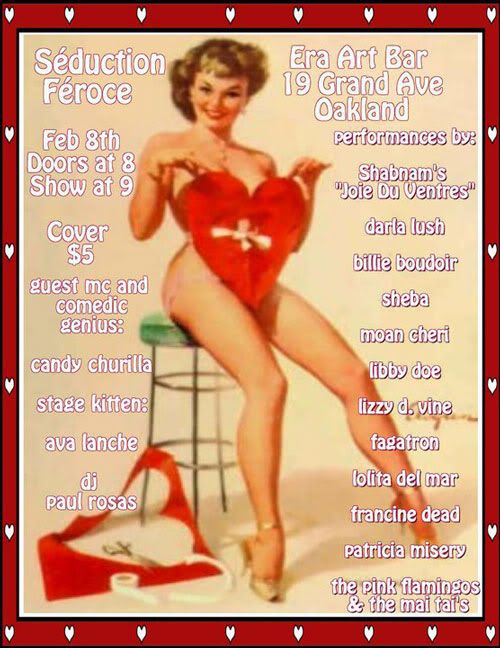 Séduction Féroce is a burlesque cabaret variety show that happens every second Tuesday of the month! Doors open at 8pm and show starts at 9pm.
This month we have a great line-up of performers to tantalize your taste buds. We will have belly dancing, drag, burlesque, a stage kitten that will make you lick your bowl of milk clean, Ava Lanche and the evening with be hosted by guest MC Ms. Candy Churilla and the man that'll be keeping the show on flow is DJ Paul Rosas!
Performances by:
lizzy d. vine
Shabnam's "Joie Du Ventres"
sheba
moan cheri
libby doe
fagatron
lolita del mar
darla lush
francine dead
billie boudoir
lady x
patricia misery
and musical guests
the pink flamingos & the mai tai's!!!
Séduction Féroce
February 8, 2011
Doors at 8pm, Show at 9
$5 cover. 21+
Era Art Bar and Lounge
19 Grand Avenue, Oakland (
map
)
http://www.facebook.com/pages/Seduction-Feroce/161960230511520?v=wall
http://www.oaklandera.com/era/