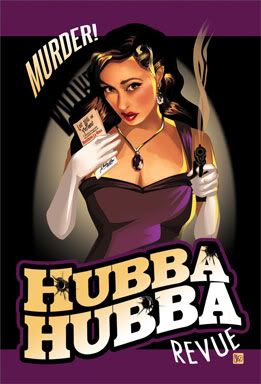 Tired of crowds at the store competing for the last tablet computer? Still trying to work off the turkey dinner? Need a break from the guests who just won't leave? Head on out to see the
Hubba Hubba Revue
show "Murder" this Friday at San Francisco's
DNA Lounge
!
The show will feature several visiting performers. From Reno,
Reagan Riot
! And returning from New York, one-time Little Minsky co-producer
The Flying Fox
! Plus burlesque legend Madame E! Plus there will be a treasure trove of local performers such as
Kiss Me Kate
,
Truvy Trollop
,
Mynx d'Meanor
,
Bunny Pistol
,
Miss Balla Fire
,
Lady Satan
, Honey Penny,
Rosalynn La Roux
,
Gorilla X
, and more!
The special musical guest will be
Jill Tracy
, who is known as the "Belle of the Edwardian Ball." You may listen to some of her music at
www.myspace.com/jilltracymusic
.
The doors open at 9:00 p.m., and the show is scheduled to start at 10:15. The DNA Lounge is located at 375 11th Street in San Francisco (
map
). General admission is $15.00. If you purchase tickets in advance online at
dnalounge.com
, or if you purchase tickets at the box office from 9:00 p.m. to 9:30, tickets are $12.00! A VIP package is also available online.
Street parking is available in the neighborhood around the club.




Hubba Hubba Revue's MURDER! -- FRIDAY Nov. 25th 9PM!



Tickets on-sale ONLINE now at www.dnalounge.com !

Need a CLUE on how to spend the night after Thanksgiving? Join the Usual Suspects from Hubba Hubba Revue as they unravel a morbid BURLESQUE mystery of malevolent malefactors & murder most foul!

Don't miss this killer night of Diabolical Damsels & Femmes Fatale, for the female of the species is more deadly than the male...!

Starring!

KISS ME KATE!
Reagan Riot! (Reno, NV)
The Flying Fox! (New York)
Burlesque Legend, Madame E!
Truvy Trollop!
Your Little Chernobyl!
Moose Knuckle!
Grace Bones!
The Indra!
LeEVil!
Mynx d'Meanor!
Jet Noir!
Courtney Crimson!
Chanteuse Mz. K!
Bunny Pistol!
Miss Balla Fire!
Lady Satan!
Honey Penny!
Rosalynn La Roux!
Gorilla X!
& The Hubba-Hubba Go-Go Murderesses!

Sultry Songs of Untimely Demise with
JILL TRACY!

Diabolical Dance-Party by
DJ STARR!

Rogue's Gallery Discount! from 9:00-9:30PM, tickets at the box office are just $12!

Hubba Hubba Revue's MURDER!
Friday November 25th
DOORS 9PM SHOW 10:15PM
DNA Lounge, 375 Eleventh Street, SF
$15, 21 & Up w/valid ID
($12 advance tickets at www.dnalounge.com )

--------------------
See more at:

http://www.dnalounge.com

Join the Hubba Hubba Revue Facebook Army!
http://www.facebook.com/group.php?gid=22983060922

Twitter-updates from Mynx d'Meanor & Comrade Tang!
@hubbahubbarevue

---------------------
HUBBA HUBBA REVUE is brought to you by:

KOFY TV20!
http://www.kofytv.com/
Dark Garden Corsetry!
http://www.darkgarden.com/
YBR Promotions!
http://www.ybrpromotions.com/
Bombshell Betty's Burlesque & Pin-Up Classes!
http://www.bombshellbetty.net/
Casey Castille's Trash & Rock & Roll Fitness!
http://www.professionalmuse.biz/


http://www.hubbahubbarevue.com

http://www.dnalounge.com