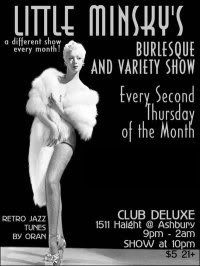 This Thursday evening, May 12,
Little Minsky's Burlesque and Variety Show
will be celebrating their six year anniversary. And you are all invited to the celebration at
Club Deluxe
!
Little Minsky's is San Francisco's longest running monthly burlesque show. It's also one of the most diverse in terms of talent. It's usually a mix of burlesque, drag, belly dancing, jazz, comedy, and other vaudevillian artists. This month, the featured acts will include
Twilight Vixen Revue
,
Sister Kate
, jazz ensemble
The Cottontails
with vocalists
Karina Denike
,
Lily Taylor
, and
Alotta Boutté
, dare-devil
Molotov
,
Kristina Nekiya
of Los Angeles, Kellita of the
Hot Pink Feathers
,
Vienna La Rouge
,
Mynx d'Meanor
,
Lady Monster
, Sid Scenic,
Lady Satan
,
ElectiKat
, Portugal's
Rita Braga
, and Kingfish of the
Hubba Hubba Revue
as emcee. That's an amazing lineup!
The doors open at 9:00 p.m., and the show starts at 10:00. Get there early to get a seat or spot to stand with a good view of the stage. If you've been to Club Deluxe, you'll know that if you're late, it may be hard to find a place to see the stage!
Cafe Deluxe is located at 1511 Haight Street in San Francisco (
map
). It's a 21 and older club, so bring your ID just in case you get carded. Cover is still just $5.00!
Little Minsky's Six Year Celebration



Ladies and gents, join us in celebrating six years of saucy shenanigans, musical merriment, stylish showgirls and vaudevillian hijinks. That's right, it's Little Minsky's sixth anniversary and we've a splendid shindig filled with fabulous burlesque beauties and vintage hot jazz with sideshow diversions. We have two terrific troupes - the gorgeous glamour gals of the Twilight Vixen Revue and the stunning genre-blending belly dance trio Sister Kate. Some rollicking tunes from stellar jazz outfit The Cottontails with virtuoso vocalists Karina Denike, Lily Taylor and Alotta Boutté. Astounding sword-swallowing feats from the mischievous Molotov. A lavish line-up of striptease talents with the captivating Kristina Nekyia (LA), shimmy-sational Kellita (of Hot Pink Feathers), ever-elegant Vienna La Rouge, delightful Mynx d'Meanor, lovely Lady Monster, exquisite Sid Scenic, tantalizing Lady Satan and high-voltage ElectriKat. And we'll be welcoming charming guest ukulele-strumming songstress Rita Braga from Lisbon, Portugal. MCs for the night are the irrepressible impresario Kingfish (of the Hubba Hubba Revue) and vibrant variety artiste Alotta Boutté. Special thanks to all of the brilliant performers we've had over the years, the audience that's made them feel at home and everyone who's ever lent a hand to keep the show rolling. Hope to see many of you at the bar...

-----------------------

LITTLE MINSKY'S

BURLESQUE
Twilight Vixen Revue
Kristina Nekyia (LA)
Kellita
Vienna La Rouge
Mynx d'Meanor
Lady Monster
Sid Scenic
Lady Satan
ElectriKat

VARIETY
Sister Kate
Molotov
Alotta Boutté
Rita Braga (Lisbon, Portugal)
The Cottontails
with Karina Denike & Lily Taylor

MCs
Kingfish & Alotta Boutté

DJ
Oran - Swingin' old timey tunes

Thursday, May 12th
Club Deluxe
1511 Haight St (at Ashbury), San Francisco
9pm - 2am, Show at 10:00pm
$5, 21 and Up

--- Every Second Thursday ---

Performer Info:
Twilight Vixen Revue - http://www.twilightvixen.com/
Kristina Nekyia - http://www.nekyiadance.com/
Kellita - http://hotpinkfeathers.com/
Vienna La Rouge - http://www.viennalarouge.com/
Mynx d'Meanor - http://www.mynxdmeanor.com/
Lady Monster - http://www.ladymonster.com/
Lady Satan - http://www.myspace.com/miss_lady_satan
ElectriKat - http://www.facebook.com/misselectrikat
Sister Kate - http://www.facebook.com/group.php?gid=19753323667
Molotov - http://www.bouvierindustries.com/molotovs
Alotta Boutté - http://www.myspace.com/alotta
Rita Braga - http://www.myspace.com/superbraguita
The Cottontails - http://www.thecottontails.com/
Karina Denike - http://www.myspace.com/karinadenike
Lily Taylor - http://www.lilytaylormusic.com/
Kingfish - http://www.hubbahubbarevue.com/

Little Minsky's is brought to you by Douglas Good (of Cabaret Verdalet) and the nefarious Minsky minions.


http://www.myspace.com/little_minskys

https://www.facebook.com/event.php?eid=207582569274566&ref=ts

https://www.facebook.com/group.php?gid=137641760092

http://www.sfclubdeluxe.com/