It's almost time for the
SF Carnaval Grand Parade
, which means that it's almost time for the
Hot Pink Feathers
to get dressed in their costumes to dance down Mission Street! But they'll need money to buy their costumes. Feather fans don't come easy!
What will the Feathers do? Have a fundraising show, of course! This Saturday, May 21, join the Hot Pink Feathers and some special guests for "Frisky: A Hot Pink Feathers Revue and Carnaval Fundraiser" at the
Shattuck Down Low
in Berkeley.
Hot Pink Feathers performing "Groovy." Photo by RJ Johnson




The show will feature the Feathers in group and solo acts. So if you missed their big 10th birthday show at the DNA Lounge, then you won't want to miss this show!
Even if you did see that show, you'll want to catch this show to see the Feathers' special guests from Chicago, Lola Martinet of the
Dolls of Doom
(winner of the Burlesque Hall of Fame's Best Variety Act 2010), and Ray Gunn of the
Stage Door Johnnies
!
You'll also get to view the solo acts that some of the Feathers have been working on recently. Plus you'll get to see the Feathers perform "Bollywood Burlesque" and "Groovy", which is always a treat!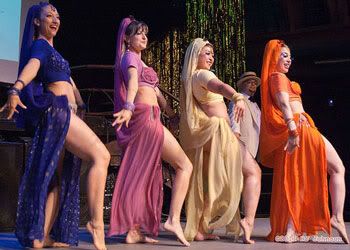 Hot Pink Feathers's "Bollywood Burlesque". Photo by RJ Johnson
It'll be a relatively early show at the Shattuck Down Low. The doors will open at 7:30 p.m., and the show will start at 8:30 and end about 10:30. Tickets range from $12.00 for a single general admission ticket, to $160.00 for a both which seats six and comes with two bottles of champagne. See below for all of the details. Tickets may be purchased in advance at
getfrisky.eventbrite.com
. If you're a Cal student, show your ID at the door for a specially priced $7.00 admission!
The Shattuck Down Low is located at 2284 Shattuck Avenue in Berkeley (
map
). It's close to the Downtown Berkeley BART station, and there is parking on the street nearby.


Burlesque Moulin and Hot Pink Feathers present FRISKY: A Hot Pink Feathers Revue & Carnaval Fundraiser!
Fresh off our glorious 10th Birthday Bonanza, the ladies of Hot Pink Feathers are ready to shimmy and shake, this time in the EAST BAY. If you missed our birthday party, here's another chance to celebrate with us! And if you didn't miss it, come celebrate with us AGAIN!

Where: Shattuck Down Low, 2284 Shattuck Ave., Berkeley
*near Downtown Berkeley BART*

When: Saturday, May 21, 2011
*doors at 7:30 p.m.; show at 8:30 p.m.

On stage:
Hot Pink Feathers
Dusty Jewel
Lily Diamond
Minnie Cupcakes
Ada Lavender
Electrikat
Roxxy Jo Chen
El Vito
La Bamboo Vixen
La Pequeña
Lolly Gagger
Cherry Galette
Jezebel Whispers
Red Velvet
Kellita
with SF Boylesque's Bohemian Brethren

Special Guests, direct from Chicago:
LOLA MARTINET, of the Dolls of Doom
RAY GUNN, of the Stage Door Johnnies


***13*** Reasons YOU want to attend FRISKY:

1. Swanky Cabaret Atmosphere where YOU can have a seat! You can even reserve a booth for 8!
2. Early start & finish (7:30 doors; 2-act show 8:30-10:30)
3. BOLLYWOOD BURLESQUE, need I say more?
4. East Bay debut of FIESTA, Dusty Jewel's festive trio dance
5. A rousing RAFFLE w/ snazzy prizes like a stay in a cottage in San Diego!
6. Hot-Off-The-Presses T's and tanks in 2 color schemes
7. 13 SOLOS by graduates of the HPF Showgirl Academy, core and alum Feathers & beyond!
8. Special Guest: RAY GUNN (of the Stage Door Johnnies! http://thestagedoorjohnnies.com/Home.html )
9. Special Guest LOLA MARTINET (of the Dolls of Doom! http://dollsofdoom.com/ )
10. Kellita will perform a sing/dance/strip with Charley & Chad of SF Boylesque's Bohemian Brethren
11. Hot Pink Feathers & The Featherettes dance GROOVY, clad in banana skirts!
12. We'll be serving BOTH Champagne *AND* special Frisky Cocktails such as Kellita's Potion of Motion
13. By attending, YOU are supporting Hot Pink Feathers and directly contributing to our Carnaval 2011 Costume Fund!

Cost:
$12 general admission
$20 includes a glass of champagne
$50 includes a table for two and a bottle of champagne
$160 includes a booth for six and two bottles of champagne
($7 students!)

Buy your tix here: http://getfrisky.eventbrite.com

LOVE!
Kellita & The Whole Feathers Tribe


http://www.hotpinkfeathers.com

http://www.shattuckdownlow.com