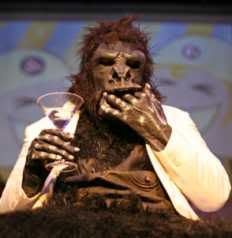 This weekend, the
Hubba Hubba Revue
will be having two shows at the
DNA Lounge
in San Francisco: "Wild Things!" on Friday night, May 20, and a show with
Bootie SF
on Saturday night, May 21!
Friday's show will also be a 10th birthday celebration of
Gorilla X
(pictured)! He started out in May 2001 with a performance with Fisherman's Famous Burlesque in San Francisco, then wound up performing at the very first
Tease-O-Rama
in New Orleans. Since then, he's performed with No Doubt and become the world's foremost burlesque show gorilla!
There will also be some special guests from far away. Among these performers will be
Baby Blue Bergman
from Australia,
Lulu Bell
from Seattle, and Ray Gunn (of the
Stage Door Johnnies
) from Chicago. Also performing in this animal-themed show will be
Scotty the Blue Bunny
,
Lola Martinet
(of the
Dolls of Doom
),
The Indra
, and many, many more of your favorite burlesquers!
For your entertainment, the musical guest for the evening will be
Lost Dog Found
! They'll most likely perform starting at 10:15 before the burlesque, so don't get there too late if you want to hear some hot swing!
The DNA Lounge is located at 375 11th Street in San Francisco (
map
). The doors open at 9:00 p.m., and the show begins at 10:15. If you arrive at the box office and go in by 9:30, you may purchase a $10.00 ticket! Otherwise, general admission is $15.00, $12.00 if you purchase online at
dnalounge.com
.
Sharpen Up Those Claws, It's Time For...


Hubba Hubba Revue: WILD ANIMALS!



FRIDAY May 20th 9PM
...
It's Gorilla X's Birthday and Hubba Hubba Revue is calling in all the SEXIEST creatures for a Wild Night of Untamed Tease!

Dress up & Join in for this BURLESQUE Birthday Safari, full of Lions & Tigers & Girls, Oh My!

Featuring!

Baby Blue Bergman! (Sydney, Australia)
Lulu Bell! (Seattle)
Ray Gunn! (Chicago)
Lola Martinet!
Scotty The Blue Bunny!
The Indra!
Dorian Faust!
F'risque!
Miss Honey Penny!
Ruby White!
Alotta Boutte'!
Bunny Pistol!
Lida Fire!
Miss Balla Fire!
Gigi D'Flower!
Sparkly Devil!
Mynx d'Meanor!
Kliff Jerk!
The Hubba Hubba Go-Go GRRRRls!

...and Extra-Special Birthday-Ape,
GORILLA X!
http://www.facebook.com/GorillaToTheStars

plus! Jump Jive & Roll with Musical Guests
LOST DOG FOUND!
http://www.lostdogfound.com/

DOMESTICATED DISCOUNT: from 9:00-9:30PM, tickets at the box office are just $10!

HELP SPREAD THE WORD TO THE WHOLE ANIMAL KINGDOM!

Hubba Hubba Revue: WILD ANIMALS!
Friday May 20th
DOORS 9PM SHOW 10:15PM
DNA Lounge, 375 Eleventh Street, SF
$15, 21 & Up w/valid ID
($12 advance tickets at www.dnalounge.com )

--------------------

See more at:

http://www.hubbahubbarevue.com

http://www.dnalounge.com

Join the Hubba Hubba Revue Facebook Army!
http://www.facebook.com/group.php?gid=22983060922

Twitter-updates from Mynx d'Meanor & Comrade Tang!
@hubbahubbarevue

---------------------

HUBBA HUBBA REVUE is brought to you by:

KOFY TV20!
http://www.kofytv.com/
Dark Garden Corsetry!
http://www.darkgarden.com/
YBR Promotions!
http://www.ybrpromotions.com/
Bombshell Betty's Burlesque & Pin-Up Classes!
http://www.bombshellbetty.net/
Casey Castille's Trash & Rock & Roll Fitness!
http://www.professionalmuse.biz/



And then on Saturday night, the Hubbas will return to the DNA Lounge to perform a show with
Bootie SF
! Yes, it'll be a night of mashups, both in terms of music and burlesque!
The festivities start at 9:00 p.m., but if you arrive before 10:00, entrance is only $8.00. Otherwise the cover is $15.00. And if you're one of the first 100, you'll get a free Bootie mashup CD!
The burlesque show will start at 11:00, and will be hosted by Kingfish and Comrade Tang. Performers will include
Kiss Me Kate
,
Oleeander Moon
,
Bunny Pistol
,
Lola Martinet
, and
Mynx d'Meanor
!
Bootie SF can get pretty crowded, so if you want to get in without waiting in a long line, get there early. Here is the show information!


Bootie SF: Hubba Hubba Revue

At 11 PM, Hubba Hubba Revue - Bootie's favorite burlesque variety show - returns with a special mashup-themed show! Hosted by Kingfish, the teasing and tantalizing show will feature five of the Bay Area's sexiest and sauciest burlesque performers. Also in the main room will be DJ Tripp, who will be spinning a feature set of all your favorite mashups.

Also on the main floor, from New York City's famous WFMU, it's guest DJ Billy Jam. SF's own John!John! wlll also be on the decks, making it a party! And in the upstairs room, it's Apocalypso. Dance like it's the end of the world as DJs Six, Candy, and Starr spin slamming sets of the best indie electro.

Launched in 2003 in San Francisco by A Plus D -- aka DJs Adrian & Mysterious D - Bootie was the first club night dedicated solely to the burgeoning artform of the bootleg mashup -- and is now the biggest mashup event in the world, with regular parties in several cities on four continents. Keeping your brain guessing and body dancing with creative song combinations, Bootie mixes and matches every conceivable musical genre, era, and style into one big dance party where everyone feels welcome, providing the soundtrack for the A.D.D. generation ... and free mashup CDs, given away like candy!

Main room:

Live on stage at 11pm, a Hubba Hubba Revue Mashup burlesque show starring:
Kiss Me Kate
Oleeander Moon
Bunny Pistol
Lola Martinet
Mynx d'Meanor
Hosted by: MC Kingfish & Comrade Tang

With DJs:

DJ Tripp
John!John!
Billy Jam

Lounge: Apocalypso

Six
Candy
Starr

Free Bootie mashup CDs to the first 100 people through the door!

9pm - after hours.
21+.
$8 < 10pm;
$15 after.


http://bootiesf.com

http://www.hubbahubbarevue.com

http://www.dnalounge.com