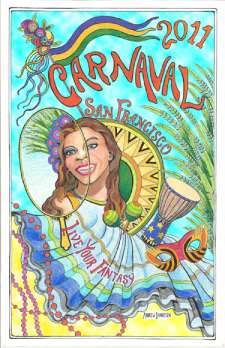 Just a quick reminder that the
Hot Pink Feathers
will be dancing to the music of the Hot Pink Feathers All Star Band this Sunday morning in the
SF Carnaval's Grand Parade
in the Mission! The theme this year is "Live Your Fantasy."
The parade will start at 9:30 a.m., so it could be an early start for those of you who stay out late on Saturday night. The parade route will start at 24th and Bryant Streets. There is a
Google Map
of the parade route that the organizers have put together for your convenience. A good place to see them is where the parade route turns at 24th and Mission Streets. If you'd like to hang with the Feathers before the parade, they'll be staging near 2230 Bryant Street, starting at 9:00 a.m. They'll be #47 out of 65 contingents, so you can plan accordingly.
Here is a video from SF Carnaval 2008 that shows the Hot Pink Feathers and their All Star Band in all their glory!
After the parade, the Feathers will be at Casnova's Carnaval at
Casanova Lounge
, which is at 527 Valencia Street in San Francisco (
map
). They'll perform somewhere between 2:00 and 3:00 p.m. Also spinning tunes until 2:00 a.m. will be
GOSTOSA & BRAZA Djs! For more information, you may visit the Facebook Event Page.

Don't forget your sunscreen and some water! Both can come in handy if you're standing outside for several hours!