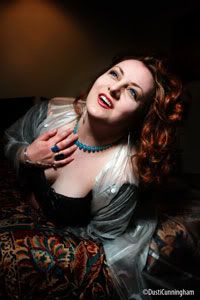 If you'll be near Sacramento this Saturday evening, you'll want to see Blazing Burlesque No. 4! It will be a celebration of Dia De Los Muertos (Day of the Dead), and our very own
Lady Monster
(pictured) will be performing!
Also on the bill for this show will be Miss Viva Las Vegas 2010
Ruby Champagne
! With additional performances by Reno's
Vivi Ennui
,
Tasty Temptress
, Ms. Lula Belle, and
Miss Lizzy D. Vine
! The musical guests will be
El Dulce Lobo
!
It will all be happening at the
Fire Escape Bar and Grill
in Citrus Heights, where there's a burlesque show every first Saturday of the month. The Fire Escape is at 7431 Madison Avenue, and the show will be at 10 p.m.
The show is only $10, and there will be door prizes of full subscriptions to
Bachelor Pad Magazine
($16 value)! Magazines, burlesque, Dia De Los Muertos celebration, and the music of El Dulce Lobo. What a bonanza!



Blazing Burlesque No. 4- Dia De Los Muertos Celebration



Short-Fuse Bettie Entertainment Presents: Blazing Burlesque. A Burlesque variety show featuring multiple Burlesque performers and a live band, every first Saturday of the month.

Saturday November 6th:
Dia De Los Muertos Celebration
10pm
$10
21+

The Fire Escape Bar & Grill
7431 Madison Avenue
Citrus Heights, CA (map)

Hosted by Stephanie Hyden
Produced & Directed by Miss Lizzy D. Vine
Stage Manager Amanda O.
Official Photographer: Jamie Hughes

FREE DOOR PRIZES
Including Free Full Subscriptions to Bachelor Pad Magazine!
$1 Raffle

Burlesque Performers
Miss VLV 13- Ruby Champagne!
http://www.youtube.com/watch?v=KodM8Df3-HY
Lady Monster!
http://www.ladymonster.com/bio.aspx
Vivi Ennui!
Tasty Temptress!
Ms Lula Belle!
Miss Lizzy D. Vine!

Featuring Live Music by
El Dulce Lobo


http://www.myspace.com/fireescapebar