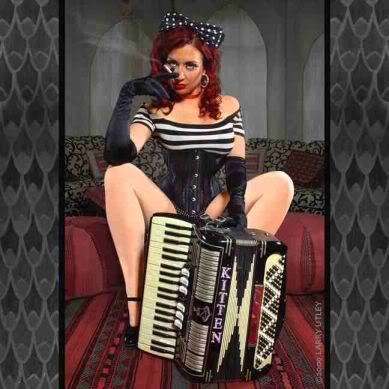 On Tuesday, November 16, Les Folies Champagne presents
Kitten on the Keys
(pictured) and the
Mischievous Maidens
at the
Bubble Lounge
located at 714 Montgomery Street (
map
) in San Francisco!
Kitten on the Keys (aka Suzanne Ramsey) is arguably San Francisco's most popular and famous burlesque and cabaret performer. She has starred in the movie Tournée (On Tour), which was in competition for the Palme d'Or at this year's Cannes Film Festival. She's also been seen on HBO, E!, IFC, Queer TV MTV, and Bravo, as well as numerous theater stages across the North America and Europe. She sings Tin Pan Alley treasures, bawdy show tunes, the blues, and classic rock. All performed on a piano, ukelele, or accordion. Then she transforms into Kitten on the Keys, a bawdy lass whose double entendre-filled ditties will leave you rolling with laughter in the aisles.
Also performing will be the Mischievous Maidens, those seemingly innocent young ladies who are a bit more risqué when they get on a stage! They also have their own show every second Friday of the month at the
Skylark Bar
in San Francisco's Mission district.
Performing his magic and comedy for you will be the top-rated
Ash K. the Pretty Good
! He was selected as a
2010 Best of the BayList winner for "Best Theatre Group,"
and he has five-star ratings on both Yelp and Citysearch. Check out this video below to see a sample of what you can expect on Tuesday!
Finally, there will be a Sexy Santa Booth where you can get your usual holiday card photos taken, only with a risqué twist this year!
So catch the show on Tuesday, as the Folies will take a break for the holidays. And the next one will be in January, so drink some champagne, prepare for the holidays, and enjoy the show. Cheers!



Les Folies Champagne presents a Pre-Holiday Shebang!



This month's line-up will get you warmed up early for the holidays!

Kitten on the Keys - MC and Chanteuse Extraordinaire - www.suzanneramsey.net
www.nytimes.com/2010/05/14/movies/14cannes.html

Mischevious Maidens - The Best Burlesque of your Life! -
www.themischeviousmaidens.com

We are particularly excited to be featuring the amazingly charismatic conjuring of...
Ash K. the Pretty Good - Magician: 2010 Best of the Bay -
www.whoatetherabbitmagic.com

Plus: Get your Holiday Card photos taken at the Sexy Santa Booth!

And as always: DJ Blaise and Champagne Specials all night long!

(P.S. Don't miss this show-- the next Folies will be in January 2011!)

** At Les Folies Champagne we are committed to High Class Hooch and Hoochie Coochie for all!**

As always: No cover charge!!!

21+

Les Folies Champagne presents a Pre-Holiday Shebang!
Tuesday, November 16, 2010
8pm to 11pm

The Bubble Lounge
714 Montgomery Street, San Francisco


http://www.facebook.com/event.php?eid=171302729562916

http://www.bubblelounge.com/san-francisco/