Feather Maggie reminded me that the
Hot Pink Feathers
and
Blue Bone Express
will be having their monthly show this Saturday night at Cafe Van Kleef in Oakland.
Here's a picture from their Mardi Gras show at the Red Devil Lounge in San Francisco this year. That's the gorgeous Feather Jen on the right!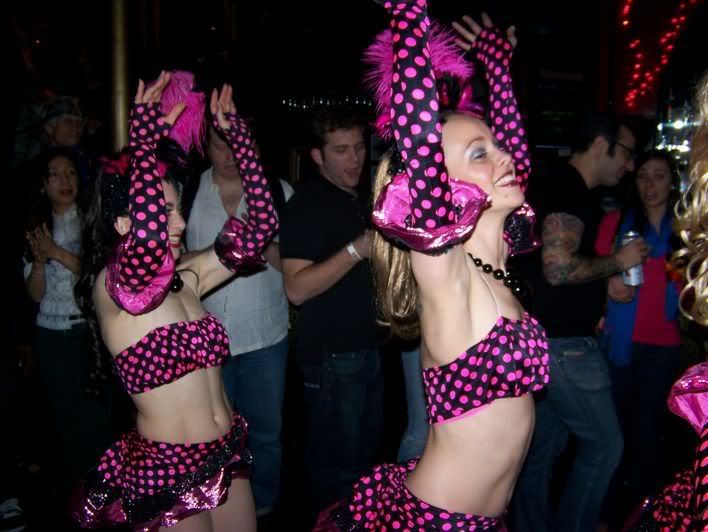 As you can see, the crowd can get pretty close to the performers! And everybody was having a great time, as you can see! The Red Devil Lounge is similar to Cafe Van Kleef in that both are rather narrow clubs. The Feathers perform both in the aisles and on the stage.
The format of the shows usually include the band playing three or four sets, and the Feathers dancing for three of four sets. The band provides the musical accompaniment for the dancers, so you get to hear lots of good music!
Speaking of which, Maggie also sent me some media quotes about Blue Bone Express and the Hot Pink Feathers. Here they are along with all the show details!
BURLESQUE N' BRASS
CAFE VAN KLEEF; 1621 Telegraph in Oakland
Saturday 3/7 doors at 8:30pm, show at 9:30 sharp; $10, 21+
HPF & Blue Bone Express with Guest Host: Cherry Galette!!!
www.cafevankleef.com



Hot Pink Feathers and Blue Bone Express perform their New Orleans & Rio-inspired jazz and cabaret at

"BURLESQUE 'n' BRASS" at Cafe Van Kleef in Oakland each Saturday monthly!

Dubbed "the coolest jazz brass band in Northern California" by the San Francisco Chronicle, Oakland-based Blue Bone Express exposes the Bay Area to a type of jazz rarely heard beyond the Mississippi Delta. Combined with award-winning Hot Pink Feathers' World Carnaval Cabaret dance, this explosive cabaret performance fuses music and dance traditions spanning the early-1900's New Orleans parades to the showgirl plumage of 1950's Rio de Janeiro Carnaval, the culture-clash hilarity of the '70s and '80s, and pushing through the present-day post-modern meltdown that is downtown Oakland.

"If you've never had the pleasure of seeing burlesque dancing performed to live jazz, then this is the place to start. It's like slugging down a pint of Uncle Peppy's moonshine after ten years of Nestea. It's sexy, spunky, sassy retro fun with all the heart and soul of Rio de Janeiro and the French Quarter, right there in downtown Oaktown. If you're looking for the perfect date, the perfect diversion, or just a chance to see an eminently sexy group of gifted hoofers grinding to hot jazz played by true enthusiasts, order a whiskey sour and settle into your seat for one of the best evenings the Bay Area has to offer." --Thomas Roche for ErosZine.com
It really is a good time. So round up your friends--or grab your sweetie or a date--and head out to Cafe Van Kleef this Saturday for an Express-ly Feather-y good time! :-)