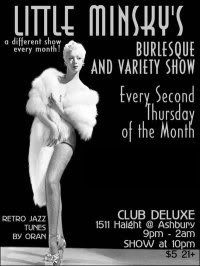 Join host
Alotta Boutté
as she hosts
Little Minsky's Burlesque and Variety Show
at
Club Deluxe
in San Francisco.
One of the longest-running burlesque shows in the area, Little Minsky's will often feature visiting performers. This month, Seattle's
Ruby Rouge
will be performing, along with local performers
Vera DeVille
,
Bunny Pistol
,
Miss Balla Fire
,
Pickles Kintaro
,
Dorian Faust
, and Miss Twin Peaks! Also appearing will be with contortion acrobat Elliot, cabaret singer
Norman Vane
and pianist Alan Choy!
Club Deluxe
is located at 1511 Haight Street in San Francisco (
map
). The doors open at 9;00 p.m., and the show starts at 10;00. Get there early to get a good spot from which to see the show, as it's a intimate club and the good places go fast. Entry is $5.00.
Little Minsky's Burlesque and Variety Show



Ladies and gents, it's almost Little Minsky's time, so grab yourself a cocktail and settle in for another night of saucy shenanigans and stylish showgirls. Our gregarious and gorgeous hostess for the evening is none other than the dynamic diva Alotta Boutté leading a cast of lovely burlesque ladies - the ravishing Vera DeVille, vivacious Bunny Pistol, sizzling Miss Balla Fire, seductive Ruby Rouge from Seattle, the enticing Pickles Kintaro, vibrant Dorian Faust and majestic Miss Twin Peaks. And we'll have some fine flexible feats from contortionist acrobat Elliot and clever comedic concoctions from cabaret crooner Norman Vane with piano virtuoso Alan Choy.

We'll see you at the bar...

-----------------------

LITTLE MINSKY'S

BURLESQUE
Vera DeVille
Bunny Pistol
Miss Balla Fire
Ruby Rouge (Seattle)
Pickles Kintaro
Dorian Faust
Miss Twin Peaks

VARIETY
Elliot - Contortion acrobat extraordinaire
Norman Vane - Comedic cabaret crooner
Alan Choy - Piano virtuoso

MC
Alotta Boutté

DJ
DJ Staccato - Cool swing jazz & crime

Thursday, February 9th
Club Deluxe
1511 Haight St (at Ashbury), San Francisco
9pm - 2am, Show at 10:00pm
$5, 21 and Up

--- Every Second Thursday ---

Performer Info:
Vera DeVille - http://www.facebook.com/ms.veradeville
Bunny Pistol - http://bunnypistol.com/
Miss Balla Fire - http://www.sinsistersburlesque.com/balla-fire.html
Ruby Rouge - http://www.facebook.com/JudeaEzell
Pickles Kintaro - http://www.mine.pickleskintaro.com
Dorian Faust - http://www.facebook.com/dorianfaust
Norman Vane - http://www.facebook.com/profile.php?id=1170381627
Alotta Boutté - http://www.facebook.com/alottaboutte

Little Minsky's is brought to you by Douglas Good (of Cabaret Verdalet) and the nefarious Minsky minions.


https://www.facebook.com/events/208267802604542

http://www.myspace.com/little_minskys

http://www.sfclubdeluxe.com