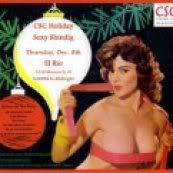 The
Center for Sex and Culture
will be having their season kick-off this Thursday evening (tonight!), December 8, at
El Rio
in San Francisco.
In addition to it being their season kick-off, it will also be an opportunity to say goodbye to
Lady Monster
, who will be leaving us to move back to the Midwest soon. In addition to being a performer, she has produced shows including various fundraisers and San Francisco's edition of
Naked Girls Reading
.
Also performing will be
The Stripping Granny
,
Red Velvet
, Alexa Von Kickinface, Cosette L'Amour, Mint Julep with Summer Fling, and DJ Pusspuss spins until midnight!
El Rio is located at 3158 Mission Street (
map
). The event starts at 8 p.m., and entry is on a sliding scale from $8.00 to $20.00. So pay what you can!
CSC Holiday Sexy Shindig at El Rio!


Thursday, December 8, 8pm-12am

Burlesque, performance, and crazy sexy shenanigans at our favorite bar! Please join us and spread the word widely – this is CSC's season kick-off, and we're so grateful to El Rio for making some space on their calendar for us!

Our fabulous featured performers (we are still adding people to the bill, we may have even more action than this!):

The Stripping Granny
Lady Monster
Red Velvet
Alexa Von Kickinface
Cosette L'Amour
Mint Julep w/ Summer Fling
and DJ Pusspuss spins til midnight!

$8-20 sliding scale
(21+)


http://www.sexandculture.org/

http://www.elriosf.com/


Also happening in the Bay Area tonight are a couple of other shows:
Orignal Sin Burlesque
has their holiday show at
Forbidden Island Tiki Lounge
in Alameda, and
Little Minsky's
will be at
Club Deluxe
in San Francisco.
Original Sin Burlesque: A Spectacular Holiday Revue
at
Forbidden Island Tiki Lounge
in Alameda, 1304 Lincoln Avenue (
map
). Don't miss the annual holiday pinup parade of pretty presents, unwrapped before your very eyes, beneath a Christmas palm tree, featuring the darlings of Danville, Original Sin Burlesque! 8pm. No cover 21+.
Little Minsky's Burlesque & Variety Show
at
Club Deluxe
in San Francisco, 1511 Haight Street (
map
). Ladies and gents, 'tis the season for teasin' at Little Minsky's, so fend off the impending winter chill with some smoldering showgirls, festive tomfoolery and melodious merriment hosted by the exuberant and irrepressible drag vocal diva Ethel Merman. Raise your glasses to the luscious likes of the sarcastically sinister Lady Satan, the scandalously enchanting La Chica Boom, the sensuous temptress Miss Balla Fire, the ever-elegant Vienna La Rouge, the shimmering Josie Starre and spectacular Sid Scenic. Revel in the lush harmonies and soothing sounds of that wondrous chanteuse duo The Bluebelles and smoky cabaret confections from stellar songstress Sheelagh Murphy. Musical accompaniment provided by the astounding Alan Choy on piano, the delightful Daniel Fabricant on upright bass and the magnificent Tom Griesser on clarinet/sax. Doors open at 9pm, show at 10pm. $5. 21+.