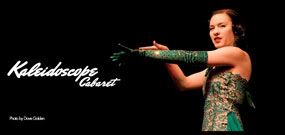 Since 2007,
Kaleidoscope Cabaret
has been bringing together bring together performers of color for an all-star cabaret show. It's a unique neo-burlesque event that only takes place this year in San Francisco!
Founder and Artistic Director
La Chica Boom
started the showcase in 2007, dedicating it to showcasing people of color in burlesque and cabaret. With
Tease-O-Rama
on hiatus for the past two years, this event and
Cabaret Verdalet
are one of the few shows in the Bay Area where you can see burlesque talent from around the country all in one place.
Scheduled to perform at the
Brava Theater
in San Francisco on Saturday, October 30, will be
Narcissister
and
Veronica Blair
from New York,
Orchid Mei
from Denver, and
Sydni Deveraux
and
Aleksa Manila
from Seattle. Also featured will be local performers
Sandra O. Noshi-Di'n't
,
Thisway/Thatway
(aka Cecilio Cooper), the
Grant Avenue Follies
, Felatio "B.J." Browne (Stephfon Bartée-Smith),
Landa Lakes
, Simone de la Getto, and La Chica Boom herself.
Tickets are $25 in advance at
brownpapertickets.com
(plus a $1.99 service fee), and may also be purchased at the door (if available). The doors open at 7 p.m., and the show starts at 8 p.m. The Brava Theater is located at 2781 24th Street in San Francisco (
map
).
This year, in addition to the show on Saturday night, there will also be an educational symposium on Thursday afternoon at U.C. Berkeley and a Friday evening pre-party and social at San Francisco's Center for Sex and Culture, too!
Although burlesque has its roots as "low" entertainment for the masses, there is scholarly interest in the cultural and sociopolitical significance of the performances. On Thursday, October 28 from noon to 5 p.m. in room 370 of Dwinelle Hall at U.C. Berkeley, you'll have the opportunity to listen to a keynote address and panel discussion of
Race Reveal: Racialized Tropes, Queer Performance, Political Possibilities
. The titles of some of the panels and discussions include
Pleasure, Power, and Profit in Race Performance
,
Queering Latin@ Subjectivities on Stage
, and
Racism, Minstrelsy, and Subversion in Burlesque Performance
. The panelists will include performers such as Thisway/Thatway (Cecilio Cooper), Narcissiter, and La Chica Boom (Xandra Ibarra), among others. For a list of descriptions and abstracts for the panel please visit
crg.berkeley.edu/content/race-reveal#abstracts
. This event is free to the public.
On Friday, October 29, there will be a pre-party and social event at the
Center for Sex and Culture
in San Francisco from 7 p.m. to 10 p.m. It's a fantastic opportunity to have a drink and mix and mingle with the performers, scholars, and cast and crew of Kaleidoscope Cabaret. The Center for Sex and Culture is located at 1519 Mission Street in San Francisco, and the cost to attend is $5.


La Chica Boom presents...

KALEIDOSCOPE CABARET!



Saturday, October 30th, 2010
Doors Open 7 pm
Show Starts 8 pm

Brava Theater
2781 24th Street
San Francisco, CA



http://www.kaleidoscopecabaret.com/



Kaleidoscope Cabaret, The Fourth Annual National People of Color Showcase
Neo-Burlesque Performers of Color On Show and Showing Off!

San Francisco, CA—September 5—Kaleidoscope Cabaret is the first of its kind in neo-burlesque, it's where performers of color take center stage and reveal more than their bedazzled satin gloves. Join us for an evening of riveting drag, burlesque, song and aerial art at the historic Brava Theater at 2781 – 24th Street in San Francisco on Saturday, October 30, 2010. Doors open at 7pm and show begins at 8pm, buy your tickets at brownpapertickets.com

Since 2007, Kaleidoscope Cabaret has consistently sold out to Seattle and San Francisco audiences. This year, among the annual all-star showcase at the Brava Theater, Kaleidoscope will provide an exciting jam-packed weekend of events. Join us on Thursday, October 28 at UC Berkeley for the educational symposium, Race Reveal: Racial Tropes, Queer Performance, Political Possibilities, hosted by the Center for Race & Gender. Also be sure to make the pre-show party on Friday, October 29 at The Center for Sex and Culture in San Francisco. For detailed information about weekend events, visit

www.kaleidoscopecabaret.co

m

Scheduled to appear at The Brava Theater Kaleidoscope Showcase: "The Anonymous One," NARCISSISTER; "The Mile High Stocking and Garter," Orchid Mei; "An Aerialist of Supreme Elegance," Veronica Blair; "Consummate Drag Host," Aleksa Manila; "The Golden Glamazon" Sydni Deveraux; "The Living Legends," The Grant Avenue Follies; "Dandy Faggotron," Thisway/Thatway; "Miss San Francisco Hooker" Sandra O. Noshi-Di'n't; "Dis-identifying Song bird" Fellatio "BJ" Browne; former Miss Gay Indian Nations, Landa Lakes; founder of Harlem Shake, Simone De la Getto; and artistic director and show founder, the shameless La Chica Boom.

Kaleidoscope's mission is to provide a stage for exciting entertainment, critical knowledge and transformative actions inspired by people of color performance and race positive sexuality.

Join us as we represent and transform burlesque as it is and was. Kaleidoscope entertains, inspires, and arouses. Enjoy the nation's best in burlesque and BUY YOUR TICKETS NOW at www.brownpapertickets.com.

Pre-Ticket Sales!
$20 in September
$25 cash at the Door

Organized in collaboration with UC Berkeley Center for Race & Gender symposium:
RACE REVEAL: RACIAL TROPES, QUEER PERFORMANCE, POLITICAL POSSIBILITIES


http://crg.berkeley.edu/co

ntent/race-reveal

Thursday, Oct 28, 2010
12pm - 5pm
370 Dwinelle Hall, UC Berkeley
Berkeley, CA 94040

facebook event:


http://www.facebook.com/ev

ent.php?eid=15244725812572

9


http://www.kaleidoscopecabaret.com

http://www.brownpapertickets.com/event/128184

http://www.brava.org




(Corrected Veronica Blair's city on Oct. 27, 2010)