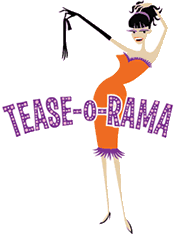 Many of you have probably been wondering if there will be a
Tease-O-Rama
this year. The answer, sadly, is no. Yet there is hope that it will return in the future.
In a posting on the
Tease-O-Rama Yahoo! Group
, Tease-O-Rama producer Baby Doe stated that during the recent Burlesque Hall of Fame Weekend in Las Vegas, "Many asked me about Tease-O-Rama this year, alas there will be no Tease-O-Rama in 2010 :( due to a million reasons but note we will be back!"
For those of you who aren't familiar with Tease-O-Rama, it's the
de facto
burlesque festival for San Francisco and pretty much all of California. In addition to several evenings of performances by many of the day's top performers from around the world, there were also various ancillary activities for burlesque performers and fans such as classes and movie screenings. It usually took place in October, and the last edition of the show in 2008 featured a roadshow that included stops in Seattle, Portland, and Ashland in addition to the weekend's main events in San Francisco.
Past performers at Tease-O-Rama have included
Dita Von Teese
,
Catherine D'Lish
,
Satan's Angel
,
Michelle l'Amour
,
Kalani Kokonuts
, and
Dirty Martini
.