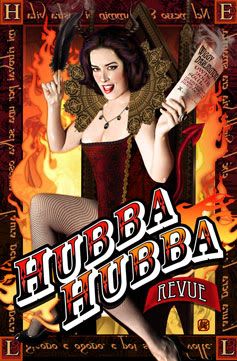 This Friday, prepare for eternal damnation! Or a night of heavenly fun. One of the two, or possibly both. Because it's time for the
Hubba Hubba Revue's
"Hell!" show at the
DNA Lounge
in San Francisco!
This month, the very special guest performer will be
Satan's Angel
, who is on her
Ta Ta Flambé Tour
. A San Francisco burlesque legend, she'll be finishing up her American burlesque career where it all started before moving to Australia (Edited June 16, 2010). You'll be sure to not want to miss seeing this beloved performer one last time!
Plus,
Devil Doll
from Los Angeles will be the musical guest. With Colleen Duffy as the lead vocalist, Devil Doll puts the sex back into rock and roll! For a taste of their music, please visit their
MySpace page
.
Hmm. Do you detect a theme here? Also in the show will be performers such as
Lady Satan
,
Flame Cynders
,
Sparkly Devil
,
Miss Balla Fire
, and the fabulous
Devil-Ettes
in one of their last performances before they take a long break!
This is a Hubba Hubba Revue show that you won't want to miss. So start off your summer right and head over to the DNA Lounge this Friday for an incredible, unforgettable night!


Damnation! It's Time For...



HUBBA HUBBA REVUE -- HELL!



Friday June 18th 9PM

Shine up your pitchfork and hang on to your soul because San Francisco's premiere Burlesque & Variety Show is taking you on a wickedly wild romp... STRAIGHT TO THE STYGIAN DEPTHS OF HELL!

Live, On-Stage! Sell Your Soul for Rock & Roll with

DEVIL DOLL!
http://www.devil-doll.com/

Brimstone BURLESQUE! Infernal Comedy! & Diabolical Delights with

Sparkly Devil!
Lady Satan!
Flame Cynders!
Miss Balla Fire!
The Devil-Ettes!
Wiggy Darlington!
Honey Lawless!
Bunny Pistol!
Professor Shimmy!
Bombshell Betty!
Red Velvet!
Miss Mae Western!
Charlie Darling!
Mynx d' Meanor!
Kliff Jerk!
Ariyana LaFey!
Isabella Minx!
Last Night's Fling!
The Hubba Hubba Go-Go Succubi!

Also! Special Guest Star, San Francisco Burlesque Legend

SATAN'S ANGEL!
http://www.satansangel.com/


GOODY TWO-SHOES DISCOUNT: from 9:00PM-9:30PM, tickets at the box office are just $10!


HELP SPREAD THE WORD, YA LITTLE DEVILS!

Hubba Hubba Revue: HELL!
Friday, June 18th, 9PM
DNA Lounge, 375 Eleventh Street, SF
$15, 21 & Up w/valid ID
($12 advance tickets at www.dnalounge.com )

See more at

http://www.hubbahubbarevue.com

http://www.dnalounge.com/

Join us on Facebook!
http://www.facebook.com/?ref=home#/group.php?gid=22983060922
(And Twitter! @hubbahubbarevue)