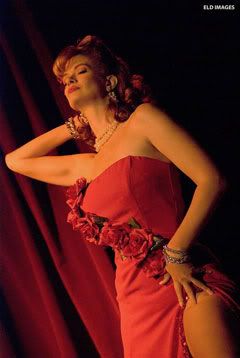 Welcome to the first San Francisco Burlesque Review BurlyQ&A! This will be the first in a series of interviews that will focus on the performers, producers, the movers and the shakers, and others involved in San Francisco Bay Area burlesque. Our first interview subject is Seattle transplant,
Sugar la Vie
!
The idea for this interview with came quite serendipitously. I was thinking that I needed to do more interviews, and then I almost immediately opened her email message thanking me for starting and maintaining this blog and calendar... and inspiration struck!
Miss la Vie is a recent transplant from Seattle, where she was a student at Trixie Lane's
Kindergarten of Burlesque
. She's also taken classes with Indigo Blue, Catherine D'Lish, and Michelle l'Amour. She's a performer with the
Tempting Tarts
, and returns to their stage whenever she visits Seattle.
In person, Sugar is a tall, willowy blonde who possesses a natural grace and elegance. And if you read through this interview, you'll get the impression that she's very detail-oriented, precise, and thorough. She knows what she wants, and dresses appropriately!
In her offstage life, she works as a web designer at a software company. So she's a bit of a geek or dork, as you'll read. In fact, she posted on Twitter that she's been called a "glamour dork," an assessment with which she agrees.
For me, several things stand out in this interview. For one, Miss la Vie is quite eloquent in her answers. I was also stuck by her description of the differences between the Seattle and San Francisco burlesque scenes. I've been thinking about how different shows in theaters are from shows in clubs or bars.
So far, Miss La Vie has performed at Little Minsky's twice. If you'd like to see her perform, her next appearance will be at this coming Monday's Hubba Hubba Revue show at the Uptown Club in Oakland.
She's also looking to perform in more shows, and she's also willing to trade her web design, photo retouching, and music and video editing skills for dressmaking and photography. You may contact Sugar La Vie via
sugarlavie.com
, through email at
sugar@bornbombshell.com
, or by calling her at (415) 894-5239.
Q: How did you decide upon your stage name, Sugar la Vie? Could you describe her persona and how she's different from your offstage self?
I wanted something that sounded glamourous, like an old Hollywood movie star, but I also thought it would be fun to reference something edible. (I really enjoy food.) At some point, I paired "Sugar" with "C'est la vie" and liked the way it sounds. After trying it on for a while, I realized how fitting it really is for me, in a lot of ways.
By day, I'm a fairly goofy, tomboyish nerd girl, working as a web designer in a predominantly male-oriented industry. I often suppress the more feminine aspects of myself, inside and out, trying to be "one of the guys."
When you suppress a side of your personality long enough, sometimes it finds a way out on its own. I love to dress up and do glamourous things, and all day I feel like I'm not "supposed" to be feminine or sexy. Sugar la Vie is about accepting that part of my personality and really indulging in it. It's decadent, and a bit "sinful", like finally giving in to that rich dessert you've been craving... (Which I fully condone, by the way.)
Q: Could you describe how you entered the world of burlesque? How long have you been performing?
I've always been a dancer, having spent most of my childhood taking a variety of dance classes, then performing on dance teams as I got older. I've also always really loved old jazz music, vintage clothes and hair, pin-ups, and classic movie musicals.
This led me into the swing scene in the '90s, and eventually I joined a performing lindy hop troupe. When we were short on men, the girls of the troupe broke out on our own to form a chorus girl troupe. We performed Charleston routines and Josephine Baker-style acts, breaking down scenes from movies like
Singin' in the Rain
and coming up with original material as well.
Every time I choreographed an act for the group, a latent desire to be sexy or naughty would keep trying to come out. Eventually I realized I had a lot more fun performing the sultry routines than the vintage jazz and Charleston pieces.
Around that same time, I saw what was probably my first real burlesque show, a big theatrical production called "Land of the Sweets: The Burlesque Nutcracker" at the Triple Door in Seattle. This show brought back daydreams I've always had about wanting to be a showgirl in an old musical - it was glamourous extravagance, delirious femininity, and giggling silliness.
It also helped that I happened to know one of the girls in the show. I thought, "I could do that." Something clicked into place in my head, and I started thinking about how I could make it happen. I took some burlesque classes, some private lessons, graduated from "Kindergarten of Burlesque" about a year ago, and started putting acts together and performing with a Seattle burlesque troupe, The Tempting Tarts.
Q: You've recently relocated from Seattle to San Francisco. What is your initial impression regarding the similarities and differences between the two cities with regards to burlesque?
I have to admit, I had a little bit of culture shock the first time I went out to a burlesque show here. Most of the burlesque shows in Seattle are held in actual theaters, even the smaller shows. The first few shows I went to here were in bars with standing room only and makeshift stages. I also dressed up more than anyone else in the audience... Everything seemed much more casual than I was used to.
I've since explored the city more and have found venues that fit the bill. For me, a burlesque show is a form of theatre, and I greatly appreciate the shows that are held in more intimate venues where people aren't milling about getting drinks during the show. I don't need a fancy theatre setting (though that sure is nice!), but it's amazing what a subtle thing like adequate seating will do for a show.
Another difference I've started to notice between burlesque in San Francisco and the scene in Seattle is a subtle trend I like very much. I think there is a greater tendency towards comedy acts in Seattle right now — most shows I went to before I left Seattle were probably 80% comedy, 20% striptease. I love the glamourous side of burlesque and the more subtle humor and mischief of a classic striptease, and there are many great performers pulling that off beautifully here. I love comedy burlesque as well, but too much of it can feel like I'm being hit over the head with punchline pasties. The shows I've been to in SF are more balanced for me, with one or two comedy acts a night and a lot more classic burlesque.
These are really subtle differences, when I sit and really think about the two scenes. On the whole, I think Seattle and San Francisco are both excellent burlesque scenes, with a lot of commonalities, and I'm excited to continue exploring the scene here.
Q: What is your favorite item of clothing that you've worn onstage?
I actually have a costume I have yet to wear, but I'm really excited about it... I'm not much of a seamstress at all, so when I put together a vintage-style costume for my first act, the kind with the long skirt made of two sheer panels of fabric, I had always planned on replacing it with something professionally made.
I finally found a seamstress to do this for me, a woman in Kansas named Linda Joyce (
www.glitzbylindajoyce.com
), who told me some great stories about acquiring vintage patterns from a real burlesque costumer from the old days (I'm sure she would tell you all the details if you asked her.) I got her to put something together for me last month, and it's really, really lovely.
Q: What song do you associate with burlesque and really, really like? Could you explain why it appeals to you?
I love horns. Clichés be damned, "The Stripper" really is THE song that screams burlesque to me. The horns sweep in like a woman in a beaded dress with a giant feather headdress, then you're hit with the dirty kick drums that just beg for a big hip bump or two.
That said, a song like that might not work for my personal interpretation of burlesque. For my acts, I tend to gravitate towards songs with a little bit more blues in them. Blues evolved as a way to make light of bad feelings, to express oneself in song, natural as breathing. Songs with that kind of complex emotion and natural human expression really inspire me to dance and build an act around them.
If I'm putting together a classic act for an audience that might be less familiar with burlesque, I'd go for a classic Sonny Lester tune. But if I know a lot of burlesque performers and fans will be in the audience, I'll try to find more obscure gems in my collection of vintage jazz and cheesy mid-century lounge albums.
Another good place I like to look is soundtrack albums. Instrumental orchestra recordings with intrigue and a bit of sultriness are out there, you just have to find them.
Q: Who are some of your favorite burlesque performers, past or present?
I've always been blown away by Lily St. Cyr — she was so beautiful, feminine, and graceful. I also adore Sally Rand, how she made do with whatever she could come up with (is it true her legendary fan dance came about because she didn't have time to finish her costume?) and made it into something simultaneously elegant and racy, always a spectacle.
My favorites of today include Catherine D'Lish and Michelle L'Amour, for similar reasons. They both have amazing poise, graceful movements, and a delicious sense of extravagant glamour, while also being ravishingly sexy in their own unique ways.
Q: What is your favorite and most memorable burlesque moment?
After my first real burlesque performance, the graduation recital with my classmates of the Kindergarten of Burlesque in Seattle, an audience member came up to me and told me my classic burlesque act made him so nostalgic for a bygone era, he called his mother and told her all about it.
I'm not sure what his mother thought about this phone call, but the way he gushed was really inspiring. A lot of people are really nostalgic for that old-fashioned glamour and the mystique of a classic striptease. If I can touch that nerve in someone every time I perform, I think I'm doing my part to honor a bygone era and keep its memories alive.
Q: How has burlesque influenced your life? What have been both the positive and negative effects, if any?
The extreme girlishness and femininity that I get from burlesque has started bubbling into my day life, for sure. I work in the tech industry where everybody wears jeans and hoodies every day. Now I've been showing up at work in pencil skirts and heels. Before, I'd try to "fit in" more, but now I don't care. I enjoy being a girl!
There is one main negative effect on my life, which I'm trying to figure out how to deal with: I spend a lot more money, in general. Burlesque costumes are very expensive. I keep buying stuff with feathers, tassles, rhinestones, just in case I want to use them in an act someday. I'm dressing up more in my day life, so I spend more on my wardrobe.
I keep wondering how I can devote more of my time and energy towards burlesque without giving up my web designer salary to pay for it. It's really quite a conundrum and I wish I knew how the modern burlesque women who do it professionally made that leap.
Q: What's next for Sugar La Vie? Anything you have planned that you'd like your fans to know about?
I'm still just getting started, and playing it by ear. I want to put together more acts and really flesh out my vision of girlish extravagance... I'm thinking lots of pink. I'm also thinking of ways I can combine my skills in web design with my enthusiasm for burlesque and performing arts. The entrepreneurial spirit of San Francisco is starting to get to me, I keep thinking of side business ideas. Who knows if anything will ever come of it, but it's fun to daydream.