The burlesque invasion of the East Bay continues this Saturday as the
Hubba Hubba Revue
hooks up with the
Shotgun Players
to present Shotgun Cabaret at the Shotgun Theater in Berkeley!
I guess Kingfish and Eddie must have some incriminating photos of the artistic director of the Shotgun Players, which up until now has been a respectable theater company. Ha ha! I kid! ;-)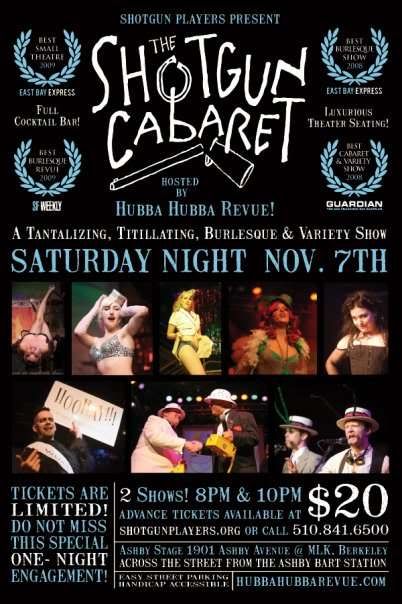 On Monday's Uptown Hubba Hubba show, Kingfish mentioned that this will be a unique show for them in that there will be a script. Hooray! Many of the theater company's usual patrons will be attending the show, in addition to fans of burlesque.
As a result, it would be a very good idea to buy your tickets in advance! According to Kingfish, as of noon today there were only standing room only tickets available for the 8pm show. Tickets for the 10pm show are selling briskly.
Below are the details for these shows:
SHOTGUN CABARET!



Saturday Night, NOVEMBER 7TH
2 shows! 8PM & 10PM!

tickets $20, 18+ w/ID

hosted by HUBBA HUBBA REVUE!

Full Cocktail Bar! Luxurious Theater Seating!

Thrill to the Romances and Adventures of the cast of a burlesque show as they romp their way through a very special night of show-biz, beauty and laughs!

Music! Comedy! and plenty of Oo-La-La!

Providers of Oo-La-La include:

Bunny Pistol!
Miss Information!
Pin Key Lee!
Wiggy Darlington!
Sid Scenic!

With music and commentary from McPuzo and Trotsky!

Also featuring Zip the What-Is-It??!

Hosted by those providers of comedy, Kingfish and Eddie!

TICKETS ARE *LIMITED* & BOTH SHOWS ARE EXPECTED TO SELL OUT!
DO NOT MISS THIS SPECIAL, ONE-NIGHT ENGAGEMENT!

advance tickets available at http://www.shotgunplayers.org
or call (510) 841-6500.

Shotgun Theater 1901 Ashby Avenue @ MLK, Berkeley
(RIGHT ACROSS THE STREET FROM THE ASHBY BART STATION)

A California non-profit organization


http://www.hubbahubbarevue.com

http://www.shotgunplayers.org