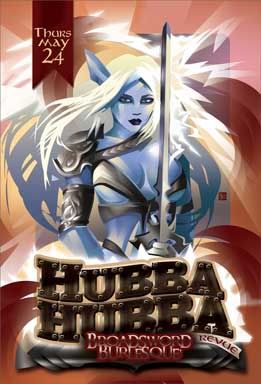 This evening at the
DNA Lounge
, become one of the Chosen Ones! Choose to see Sacramento's
The Sizzling Sirens
, Germany's
Hedo Luxe
, and a bevy of Bay Area burlesque stars in the
Hubba Hubba Revue's Broadsword Burlesque
!
Miss Balla Fire
,
Bunny Pistol
,
Lola Martinet
,
Pickles Kintaro
,
Rizzo Rogue
,
Cyanide Cyn
, daredevil
Molotov
, and so much\more will be there to tantalize and thrill you with their fairie, wizard, troll, dragon, and other fantasy-inspired acts!
So join hosts Kingfish and
Xparkly Warrior Princess
as they guide you through this epic evening of entertainment and enlighten your lives with the redeeming power of burlesque!
The
DNA Lounge
is located at 375 11th Street in San Francisco (map). The doors open at 9:00 p.m. From 9:00 to 9:30 (and online at
www.dnalounge.com
before the show), tickets are just $12.00 at the box office! After 9:30, tickets will be $15.00.
Though it's a fantasy adventure show, it's still burlesque at the DNA Lounge, so please be 21 or older to see the show! Bring a valid photo identification to show the door person as you enter.
THURSDAY, May 24th -- at DNA Lounge, SF!

Hubba Hubba Revue's BROADSWORD BURLESQUE!

TICKETS! http://www.dnalounge.com/calendar/2012/05-24.html

Slip into that chainmail bikini, grab your magic wand & join Hubba Hubba Revue's party of shimmy-shaking adventurers as they cast a sexy spell on the Wild World of Fantasy!

Just look at this tantalizing list of player-characters!

THE SIZZLING SIRENS! (Sacramento)
Hedo Luxe! (Hamburg, Germany)
Aerialists Viridian & Miriam!
Miss Balla Fire !
Bunny Pistol!
Lola Martinet!
Pickles Kintaro!
Rizzo Rogue!
Cyanide Cyn!
Daredevil Molotov!
Oleenander Moon!
Aerialist Sommer Strangelove!
Casey Castille!
Mistress Pon-Farr!
Bunny Von Tail!
Gorilla X!
& The Hubba Hubba Go-Go Adventurers!

hosted by Kingfish the Good & Xparkly Warrior Princess!

plus! Dungeonmaster Dance Party with DJ STARR!

DICE-BAG DISCOUNT: from 9:00-9:30PM,
tickets at the box office are just $12!

Hubba Hubba Revue's BROADSWORD BURLESQUE!
Thursday, May 24th -- Doors & DJ STARR at 9PM
DNA Lounge, 375 Eleventh Street, SF
$12 before 9:30PM, $15 after
21 & Up w/valid ID
TICKETS: http://www.dnalounge.com/calendar/2012/05-24.html

-----------------------
See more at:

http://www.hubbahubbarevue.com/
http://www.dnalounge.com/

Join the Hubba Hubba Facebook Army!
https://www.facebook.com/groups/hubbahubbarevue/

Get Twitter Updates from Mynx d'Meanor & Comrade Tang
@hubbahubbarevue
-----------------------
HUBBA HUBBA REVUE is brought to you by:

KOFY TV20!
http://www.kofytv.com/
Bombshell Betty's Burlesque & Pin-Up Classes!
http://www.bombshellbetty.net/
Casey Castille's Trash & Rock & Roll Fitness!
http://www.professionalmuse.biz/
Dark Garden Corsetry!
http://www.darkgarden.com/
YBR Promotions!
http://www.ybrpromotions.com/


http://www.hubbahubbarevue.com

http://www.dnalounge.com