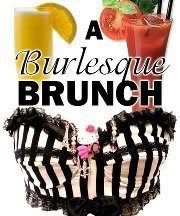 Womanopoly
and Catty Bitch Burlesque present another
Burlesque Brunch
at
Kan Sai Sushi Bar
this Sunday morning, May 27.
It'll be a gathering of Bay Area performers, producers, and others involved in the local scene. So if you're looking to chat with and get to know some of the people involved in burlesque, this will be the place to be on Sunday! Your hosts will be
Sgt. Die Wies
and
Elyse Elaine
!
There will be food to eat and drinks to drink, at happy hour prices! Cali rolls! Spider rolls! Udon! Sake! Oh so yummy! Oh so affordable!
Entry is free, so you'll just need to pay for your food and drink.
Kan Sai
is located at 4345 Telegraph Avenue in Oakland (
map
). The brunch will start at 11:00 a.m. and it will go until about 2:00 p.m.
Womanopoly and Catty Bitch Burlesque Presents:

Another BURLESQUE BRUNCH!

Hosted by your very own ...
...
Sgt. Die Wies and Elyse Elaine!

Please come to our boobie bonanza mix and mingle to get a little tipsy (if you'd like ;D) and hob knob with friends and fellow bay area burlesque beauties! None performers and out of town performers welcome ;)

We will be eager to chit chat about everything under the burly q and beyond! So bring yer gums cause we got plenty of bumpin to do!

Come eat drink and be fanfuckintastic at one of Oakland's best hidden treasures ... Kan Sai Sushi Bar!!! H A P P Y H O U R P R I C E S!
Tasty Cali rolls ( not overloaded with rice) are $2.45 for a set of 8! Sprider roll is like $5! A Big ass bowl of chicken/beef/ shrimp Udon soup for $6 and lets not forget anbout LRG SAKE + LRG HITE for $6-7?!

C R A Z Y C H E A P!!!!!!!!!!

If folks are still feelin froggy after our nosh ... we can run across the street to ...

J A G U A R K A R A O K E!

Feel free to drop by all dolled up or as low key and plain jane as you'd like!

Admissions FREE
Featuring:
Brunch
Full Bar
&
Beautiful ladies!


Be sure to RSVP ASAP!
https://www.facebook.com/events/345094025551101/

http://www.yelp.com/biz/kansai-oakland