Ever wanted to visit New Orleans and perform burlesque? Now you can win free round-trip airfare and hotel
accommodations
for two to the Big Easy to perform on July 14, 2012, with
Slow Burn Burlesque
and the stars of the new documentary, "
Save Our Souls
," in "
The Shake Our Souls Burlesque Contest!
"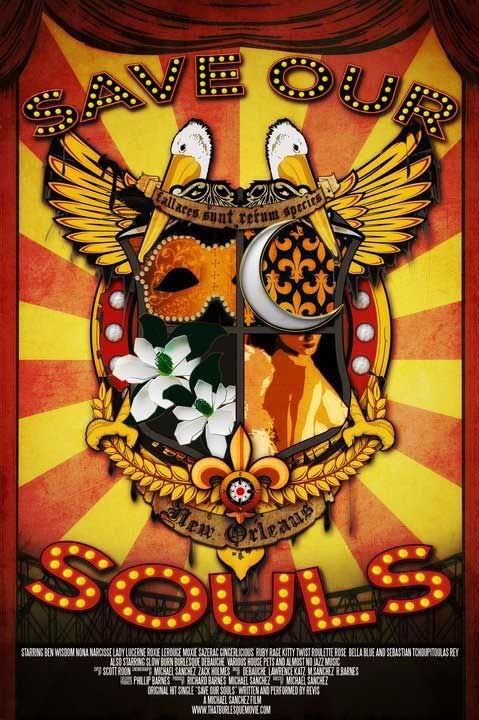 The contest is part of an effort to promote "Save Our Souls," a documentary by Michael Sanchez about Slow Burn Burlesque, its performers, and how Hurricane Katrina affected them. The film is tentatively scheduled to be released in the U.S. in August 2012, and it has been nominated for Best Short Documentary at the
Madrid International Film Festival
! View the trailer below.
The contest is seems easy enough to enter. It requires you simply to submit a link to a video of your burlesque performance on YouTube as well as your personal info to the email address listed below by April 30, 2012. All genders may participate, but you must be 18 or older and a U.S. citizen to enter. Winners will be notified by May 31, 2012.
In addition to the grand prize, there will be some prizes for those who are selected as finalists. See below for the rules, how to enter, and everything else you need to know about the contest. If you have any questions, you may email
saveourgorgeoussouls@gmail
.com.
Also, please visit the Facebook Event Page for the contest at
www.facebook.com/events/334297066613689
.
Good luck!
Enter to Win a Trip for Two to New Orleans to perform with Slow Burn Burlesque!


SAVE OUR SOULS' Shake Our Souls Burlesque Contest - in association with Slow Burn Burlesque - is looking for your best Burly-Q routine...and is offering up airfare and accommodations for two to perform live with the cast of Slow Burn at Howlin' Wolf in New Orleans on July 14, 2012 to the Grand Prize Winner!

Here's how it works to enter:

1. Upload a video (max of 5 mins) of your best burlesque (classical, neo, performance art) to YouTube by Monday, April 30, 2012.
2. Send a link to your YouTube video to saveourgorgeoussouls@gmail.com, along with your name, address and phone number.
3. We will "LIKE" your video and add it to our YouTube Channel, where it will be narrowed down by the Slow Burn Burlesque troupe to the top three finalists.
4. The top three finalists' videos will be judged by the fans -- the video with the most "LIKES" after the finalists are announced will win the Grand Prize.
5. In the event of a tie, the film's director, Michael Sanchez, will decide the winner.5. Grand Prize will be announced on Thursday, May 31, 2012.

Let's talk about prizes:

The Three Finalists - will receive a copy of the Save Our Souls movie poster, signed by the cast of the film and a Limited Edition Screener and Soundtrack!

The Grand Prize Winner - will receive the above as a finalist, as well as round-trip airfare and hotel accommodations for two to New Orleans, and a spot onstage to perform your winning routine at Howlin' Wolf on July 14, 2012!

Now for the Official Contest Rules:

1. Keep your video short, simple and sexy. Don't be too dirty and cover up the naughty bits -- your video can't be judged if YouTube takes it down for inappropriate content!
2. You must be 18 years of age or older and a legal resident of the U.S.
3. Contest is open to everyone -- all genders, burlesque and boylesque will be considered.
4. You must be available for travel between July 12 and 15, 2012.
5. All expenses incurred outside of airfare and hotel accommodations are the responsibility of the winning party and their guest -- this includes, but is not limited to ground transportation, meals, tips, souvenirs, etc.
6.Save Our Souls, HiWater, MediaRes, Gorgeous PR and any associates of the film or contest are in no way responsible for any personal or property damage, theft, or destruction. It is recommended that contestants have their own travel insurance.
7. By submitting your video, you are agreeing to the above terms and swearing that the information provided for the purpose of this contest is truthful.

Send us your videos!

Good Luck!


https://www.facebook.com/events/334297066613689/

http://www.thatburlesquemovie.com

http://www.slowburnburlesque.com