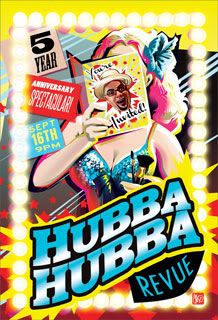 Join the celebration as the
Hubba Hubba Revue
fetes their fifth year! The party happens tonight at the
DNA Lounge
in a show so big, it's filled with wall-to-wall burlesque performers!
The burlesque stars participating are numerous. The list starts off with the
Hot Pink Feathers
and
Twilight Vixen Revue
and blasts off from there with solo acts such as
Sparkly Devil
,
Lady Satan
,
The Stripping Granny
,
Scotty the Blue Bunny
, and more! It's like a Hubba Hubba Greatest Hits show!
It'll be the biggest burlesque party of the year, presented by one of the best burlesque shows in the Bay Area and the world as chosen by the
Travel Channel
,
7x7 Magazine
,
San Francisco Bay Guardian
, and
SF Weekly
, among others!
The DNA Lounge is located at 375 11th Street in San Francisco (
map
). Doors open at 9:00 p.m., and the show will start at 10:15. If you get to the box office between 9:00 and 9:30 p.m., you may purchase discounted tickets for $12.00, which are also available online (plus a service fee) at
dnalounge.com
. Otherwise, tickets are $15.00 apiece.
And if you still want more,
Bootie SF
will have the Hubba Hubba Revue as guests at the DNA Lounge on Saturday night. Doors open at 8:00 p.m., and it will be $8.00 before 10:00 p.m., and $15.00 after. The burlesque will start at 11:00 with a "Back to School" show. Plus there will be DJs with lots of mashup music. For more information, please see the calendar above or visit
www.dnalounge.com/calendar/2011/09.html#17
!


Hubba Hubba Revue's 5-YEAR ANNIVERSARY SPECTACULAR!

FRIDAY September 16th 9PM

Join the finest performers & crew of any show, anywhere, as they celebrate 1/20th of a Century of San Francisco's award-winning, groundbreaking, great big & amazing Hubba Hubba Revue!
...
It's gonna be the biggest, wildest BURLESQUE party of all-time, and YOU'RE invited!

LOOK. AT. THIS. *LINE-UP*...!

THE HOT PINK FEATHERS!
Twilight Vixen Revue!
Steele Starling! (St. Louis)
Horchata Dentana! (St. Louis)
Honey Lawless!
Gigi d'Flower!
Kiss Me Kate!
Vera DeVille!
Sparkly Devil!
Lady Satan!
The Gypsy Cowboys!
The Stripping Granny!
Alotta Boutte'!
Scotty the Blue Bunny!
Mynx d'Meanor!
Sister Kate!
Madam Chartreuse!
Miss Balla Fire!
Casey Castille!
Sigfried & Boys!
Lee Presson!
Little Miss Never!
Delilah!
Ruby White!
Rosalyn La Roux!
Dixie DeLish!
Roxy Reve!
Rubenesque Burlesque!
Patina deCopper!
Randy Johnson!
Kliff Jerk!
Gorilla X!
& The Hubba Hubba Go-Go Dancers!

plus! tear up the dancefloor
with DJ STARR!

EARLYBIRD SPECIAL: from 9:00-9:30PM, tickets at the box office are just *$12!*

HELP SPREAD THE WORD! 5 MORE YEARS! 5 MORE YEARS!

Hubba Hubba Revue's 5-YEAR ANNIVERSARY SPECTACULAR!
Friday September 16th
DOORS 9PM SHOW 10:15PM
DNA Lounge, 375 Eleventh Street, SF
$15, 21 & Up w/valid ID
($12 advance tickets at www.dnalounge.com )

--------------------

See more at:

http://www.hubbahubbarevue.com/
http://www.dnalounge.com/

Join the Hubba Hubba Revue Facebook Army!
http://www.facebook.com/group.php?gid=22983060922

Twitter-updates from Mynx d'Meanor & Comrade Tang!
@hubbahubbarevue

---------------------

HUBBA HUBBA REVUE is brought to you by:

KOFY TV20!
http://www.kofytv.com/
Dark Garden Corsetry!
http://www.darkgarden.com/
YBR Promotions!
http://www.ybrpromotions.com/
Bombshell Betty's Burlesque & Pin-Up Classes!
http://www.bombshellbetty.net/
Casey Castille's Trash & Rock & Roll Fitness!
http://www.professionalmuse.biz/


http://www.hubbahubbarevue.com

http://www.dnalounge.com