This Saturday, June 11, the
Hot Pink Feathers
will be performing in their monthly show Burlesque n' Brass with their musical cohorts the
Blue Bone Express
! The show will be at
Cafe Van Kleef
in Oakland in the Uptown area.
The doors will open at 8:30 p.m., and the show will start at 9:30. Cafe Van Kleef is located at 1621 Telegraph Avenue in Oakland (
map
), which is near the 19th Street Oakland BART station. The cover is still $10.00, and the show is for those 21 and older.
And if you'd like to perform with the Feathers, there's lots of opportunities this summer! Read about their class offerings and parade opportunities below the Burlesque n' Brass information!
Hot Pink Feathers & Blue Bone Express present: Burlesque 'n' Brass

– June


*Now the SECOND SATURDAY of every month!*

Heat up your summer by watching the Hot Pink Feathers dance on Saturday, June 11, with musical cohorts Blue Bone Express at Cafe Van Kleef in Oakland for an evening of rousing live music and dance. PLUS: We'll have a SPECIAL GUEST performer! (Stay tuned for details.)

WHEN:
Saturday June 11, 2011; doors at 8:30 p.m. & show at 9:30 p.m.
*Music starts at 9:30 p.m., with first dancing set at 9:45 p.m.; get there early for a seat!

WHERE:
Café Van Kleef, 1621 Telegraph Ave, Oakland
*1/2 block from the 19th Street BART station (17th Street exit)

COST:
$10; 21+

WHAT:
*3 full sets of booty-shakin' New Orleans jazz music by Blue Bone Express!
*3 full sets of booty-shakin' burlesque & cabaret dancing by Hot Pink Feathers!
*Intimate venue! Gorgeous girls! Fabulous grapefruit cocktails!
*Still only $10! Tips warmly encouraged.


BURLESQUE 'N' BRASS:
Dubbed "the coolest jazz brass band in Northern California" by the San Francisco Chronicle, Oakland-based Blue Bone Express exposes the Bay Area to a type of jazz rarely heard beyond the Mississippi Delta. Combined with award-winning Hot Pink Feathers' World Carnaval Cabaret dance, this explosive cabaret performance fuses music and dance traditions spanning the early-1900's New Orleans parades to the showgirl plumage of 1950's Rio de Janeiro Carnaval, the culture-clash hilarity of the '70s and '80s, and pushing through the present-day post-modern meltdown that is downtown Oakland.

"If you've never had the pleasure of seeing burlesque dancing performed to live jazz, then this is the place to start. It's like slugging down a pint of Uncle Peppy's moonshine after ten years of Nestea. It's sexy, spunky, sassy retro fun with all the heart and soul of Rio de Janeiro and the French Quarter, right there in downtown Oaktown. If you're looking for the perfect date, the perfect diversion, or just a chance to see an eminently sexy group of gifted hoofers grinding to hot jazz played by true enthusiasts, order a whiskey sour and settle into your seat for one of the best evenings the Bay Area has to offer." ~Thomas Roche

More info:

http://www.hotpinkfeathers.com

http://www.blueboneexpress.com

http://www.cafevankleef.com
Hot Pink Feathers Showgirl Academy Classes
If you've ever wanted to learn to dance like the Hot Pink Feathers, there's lots of opportunities at the
HPF Showgirl Academy
!
If you'd like to dance with the Feathers in the San Francisco's Pride Parade or Alameda's 4th of July Parade, classes start this Tuesday at the
Hot Pink Feathers Ballet Studio
, 128 10th Street, in San Francisco. Information about these classes, including cost, times and other details, may be found at the
Facebook Event Page
.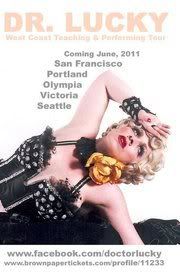 Dr. Lucky
The Feather are also offering their "Crafting the Solo 4-Week Intensive: Create Your Own Burlesque Dance" class. If you've taken their 7-week "Crafting the Solo" workshop before, or if you've already performed a solo. This class is for you! This class will include a Costume Salon with Red Velvet, and the Character and Persona Development workshop with Dr. Lucky! For more information about this class, please visit the
Facebook Event Page
.
And if you'd like to take the Character and Persona Development workshop with Dr. Lucky by itself, you can! You can learn about how to stage characters and even outrageous stage personae from one of the world's foremost burlesque performers and educators. For more information about this workshop, please visit its
Facebook Event Page
. Dr. Lucky has taught "The History of American Burlesque" at NYU, MICA and CUNY, among other places. She's known for her comedic timing and over-the-top theatricality. If you'd like to learn more about Dr. Lucky, please visit her website at
doctorofburlesque.wordpress.com
.