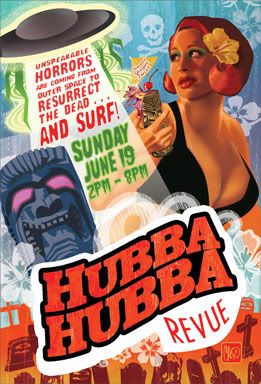 This Father's Day, catch the
Hubba Hubba Revue's
Flying Saucer Beach Party at time you only occasionally see burlesque show — during the bright light of day at the DNA Lounge in San Francisco! Perfect for the father who says he can't stay up past 9:00 p.m.!
The theme for Sunday's Flying Saucer Beach Party show seems to be a mash-up of
Plan 9 from Outer Space
and various beach and surf movies. It'll be a time for resurrected ghoulies, crazed aliens, beach burlesque, and perhaps even an appearance by Bela Lugosi! Plus, there will be BBQ, hot rods, and special guest stars, including Balrok and The Cave Girls from
KOFY TV20's Creepy KOFY Movietime
! And there will be not one, but two bands:
The Deadlies
and
Pollo Del Mar
! Plus some fantastic burlesque acts such as
Rosie 151
from New York, Detroit's Twinkletoes McGee,
Lulu Bell
from Seattle, and a full lineup of Bay Area talent!
The daytime party will be at the DNA Lounge this Sunday, June 19. The doors open at 2:00 p.m., and the show will start at 3:00 and the party will last until 8:00! Tickets are $12.00, and you may purchase $10.00 tickets online at
dnalounge.com
or from 2:00 p.m. until 3:00 at the box office day of the show, which is 21 and older only. The DNA Lounge is located at 375 Eleventh Street in San Francisco (
map
).
SUNDAY! June 19th *SPECIAL DAYTIME EVENT* (2pm 'til 8pm)

Hang ten, Earthings! It's time for...


Hubba Hubba Revue's FLYING SAUCER BEACH PARTY!


(tickets on-sale at www.dnalounge.com !)

San Francisco's biggest, wildest burlesque show cowers in fear as alien saucer-men enact PLAN 9! --their insidious scheme to conquer earth's beaches with AN ARMY OF THE UNDEAD!

Groovy ghoulies, Mixed-up Martians & Tantalizing Tease, all at the Sexiest Sunday this Summer!

FUN ALL DAY! featuring!

Special guests, from KOFY TV20's Creepy KOFY Movietime
Balrok & The Cavegirls!
http://www.kofytv.com/whats-on/creepy-movie/

plus! Double your Wicked Surf with

THE DEADLIES!
www.reverbnation.com/thedeadlies
POLLO DEL MAR!
www.pollodelmar.com/

Burlesque & Variety Acts by

Rosie 151 (New York)
Lola Martinet (Chicago)
Twinkletoes McGee (Detroit)
Lulu Bell (Seattle)
Jenny Atomik
Vaudie Va-Boom
Ariyana La Fey
The Mischievous Maidens
Rosalyn LaRoux
Ophelia Coeur de Noir
Kitty Von Quimm
Gorilla X!

...& The Hubba Hubba Go-Go Ghouls!

Also! Win fabulous prizes in
THE MARTIANS, MAIDENS & MONSTERS *SWIMSUIT* CONTEST!

And Rocking the Dancefloor
DJ Sage (Dark Sparkle)

PUNY HUMAN DISCOUNT: from 2:00-3:00PM, tickets at the box office are just $10!

HELP SPREAD THE WORD --BEYOND THE GRAVE, AND INTO OUTER SPACE!

Hubba Hubba Revue's
FLYING SAUCER BEACH PARTY!
*special DAYTIME show*
Sunday June 19th
2PM til 8PM, Entertainment All Day
DNA Lounge, 375 Eleventh Street, SF
$12, 21 & Up w/valid ID
($10 advance tickets at www.dnalounge.com )

AWESOME PEOPLE OF AWESOMENESS! THIS IS *YOUR* SUPER-SUMMER KICK-OFF EVENT!
--------------------

Defend Earth! Join the Hubba Hubba Revue Facebook Army!
http://www.facebook.com/group.php?gid=22983060922

Twitter-updates from Mynx d'Meanor & Comrade Tang!
@hubbahubbarevue


See more at:

http://www.hubbahubbarevue.com

http://www.dnalounge.com





---------------------
HUBBA HUBBA REVUE is brought to you by:

KOFY TV20!
http://www.kofytv.com/
Dark Garden Corsetry!
http://www.darkgarden.com/
YBR Promotions!
http://www.ybrpromotions.com/
Bombshell Betty's Burlesque & Pin-Up Classes!
http://www.bombshellbetty.net/
Casey Castille's Trash & Rock & Roll Fitness!
http://www.professionalmuse.biz/
And then on Monday night, the
Hubba Hubba Revue
welcomes back
Bombshell Betty
and
Fromagique
as they present their "What Happens in Vegas, Stays in Vegas! (2.0)"show at the
Uptown Club
, 1928 Telegraph Avenue, in Oakland (
map
). It'll be all the spectacle of a Vegas vacation without having to go through airport security!
The doors open at 9:00 p.m., and the show starts at 10:15. The cover is still only $5.00! Much less expensive than a Vegas vacation, for sure!
What Happens in Vegas, Stays in Vegas! (2.0)




Burlesqueteer Night at the Uptown Club



Burlesque performances by many of your favorite Burlesqueteers:
-Bombshell Betty®!
-Candy Pie!
-Cosette L'Amour!
-Eve VonGelica!
-Kinkie d'Orleans!
-Laura Borealis!
-Luci Fur!
-Mistress Marla Spanks!
-Pearl E. Gates!
-Red Velvet!
-Summer Fling!
-Violet Streak!

Burlesque Debuts by:
-Ms. Bobby Pin!
-Demi Moiselle!
-Reno May!
-Scarlet Leather!

-Plus the Burlesquercise SHOWGIRL CHORUS!

And where else are you going to find burlesque to LIVE music?
San Francisco's cheesiest band: FROMAGIQUE!
(W/ special guests Mick and Greg!)

Only $5

Doors 9PM, Show 10:15PM
21+ (with valid I.D.)

THE UPTOWN (Oakland)
1928 Telegraph Ave
Near 19th St. BART
-------------------


http://www.bombshellbetty.net

http://www.myspace.com/fromagique

http://www.hubbahubbarevue.com

http://www.uptownnightclub.com