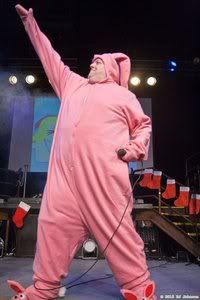 Friends and fans of the late Eddie Dane will be gathering together in the next few weeks to celebrate the life and achievements of one of the true pioneers of the neo-burlesque movement. And one of the leaders of the
Hubba Hubba Revue
, too.
This Thursday, the
DNA Lounge
will be hosting the Eddie Dane Memorial Bash! It's a free event with a suggested donation of $5.00. There will be lots of performances from
Sparkly Devil
,
Honey Lawless
,
Bunny Pistol
, and many more of the famous performers that came to know Eddie Dane through burlesque.
There will be some sadness with the memories that will be recalled, but there will also be lots of laughter for sure, because that is what Eddie Dane wanted: Laughter from the audience. Even if he had to get into a pink bunny suit (photo by
RJ Johnson
)!
There will also be music from the
Hi-Rhythm Hustlers
! And there will be dance music, also, provided by
DJ Tanoa Samoa Boy
.
So this Thursday, head on over to the DNA Lounge to help celebrate one of the greats of San Francisco Bay Area burlesque: Eddie Dane. The doors will open at 8:00 p.m., and the show will start at 9:00. DNA Lounge is located at 375 Eleventh Street (
map
). If you have $5.00 to donate, bring it, otherwise just bring yourself and a some friends to remember and celebrate Eddie's life.

The Eddie Dane Memorial Bash

HOWDY FRIENDS OF EDDIE! Come Celebrate the Life & Times of The Great Dane Himself with an ALL-STAR night of Music! Memories! BURLESQUE & More!

featuring Eddie-Lovin' Antics from the likes of...

Sparkly Devil!
Honey Lawless!
Bunny Pistol!
Rubenesque Burlesque!
Madam Chartreuse!
Miss Balla Fire!
Cupcake!
McPuzo & Trotsky!
Gorilla X!
Zip the What-Is-It?
& many, many more!

Live, On-Stage! Rock & Roll with:
THE HI-RHYTHM HUSTLERS!
http://www.thehirhythmhustlers.com/

Plus! Shakin' the dance floor:
DJ Tanoa Samoa Boy

DOORS AT 8PM
FESTIVITIES BEGIN AT 9PM SHARP!
21 & Up

ADMISSION IS *FREE!*
($5 suggested-but-not-required donation)
WE JUST WANT YOU THERE!!!

THE EDDIE DANE MEMORIAL BASH
Thursday, April 14th 8PM
DNA Lounge
375 Eleventh Street
SF, CA 94103

*HELP SPREAD THE WORD, Y'ALL!*
LET'S PACK THE PLACE WITH EDDIE'S FRIENDS & LOVED ONES!


http://www.hubbahubbarevue.com

http://dnalounge.com
Over in the East Bay, there will be another Eddie Dane memorial event. It's called the "Give 'em the Finger for Me! A Memorial Benefit for Mr. Eddie Dane," and it'll happen on Friday, April 29, starting at 9:00 p.m. at the
Uptown Club
in Oakland. The show's title is in reference to an Eddie Dane story often told by Kingfish of the Hubba Hubba Revue.
The MC will be
Sparkly Devil
, and it will feature performances by burlesque artists such as
Cupcake
and Lil Eyeful, Juicey Delight,
Honey Lawless
,
Alotta Boutté
, and
Sin Sisters Burlesque
members Rizzo Rogue,
Dorian Faust
, and
Madam Chartreuse
! Plus there will be a live performance by
Scission
! It will be quite a show!
It will be at the Uptown, which is at 1928 Telegraph Avenue in Oakland (
map
). It's very close to the 19th Street BART station, and there's usually quite a lot of street parking.
GIVE 'EM THE FINGER FOR ME!

A Memorial Benefit for Mister Eddie Dane



Opening Band: SCISSION

Burlesque by

CUPCAKE & LIL EYEFUL!
JUICEY DELIGHT
HONEY LAWLESS
BALLA FIRE
ALOTTA BOUTTE
RIZZO ROGUE
DORIAN FAUST
MADAM CHARTREUSE

Mistress of Ceremonies:
Sparkly Devil

FRIDAY APRIL 29, 2011
UPTOWN CLUB, 1928 TELEGRAPH AVENUE, OAKLAND
DOORS AT 9 SHOW AT 10

$10 Bucks

21+


http://www.facebook.com/event.php?eid=101667523250518

http://uptownnightclub.com

So whichever show you go to, or even if you go to both shows, have a good time. And laugh a lot. That's what Eddie Dane would have wanted most of all.