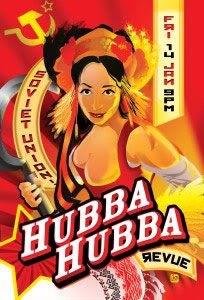 Return to the days when Krushchev, Brezhnev, and Gorbachev ruled the Evil Empire. Only this time, instead of the USSR it's the UHHR (United Hubba Hubba Revue) Burlesque Empire, and the rulers are named Kingfish and Eddie! Gather your rubles, it's time this Friday evening for the
Hubba Hubba Revue: Soviet Union
show! Conveniently located at the
DNA Lounge
in San Francisco!
If you're looking for a show with a lot of burlesque performances with music and comedy, the Hubba Hubba Revue's "Big Show" is it. Recently named by the Travel Chanel as one of the
world's top 10 burlesque shows
, the Hubba Hubba Revue will often feature visiting performers as well as the best of the Bay. This month's show will feature
The Shanghai Pearl
from Seattle,
Ms. Luisa
from Minneapolis, and
Fever Blister
from Los Angeles, as well as the
Twilight Vixen Revue
,
Lady Satan
,
Sparkly Devil
,
Vienna La Rouge
, and more!
The doors open at 9:00 p.m., and the show will start at 10:00 or so. Usually, the musical guest (
Brothers Horse
this month) takes the stage first and plays a set of about 45 minutes, then the burlesque begins after a short break for another 45 minutes, then there's an intermission that lasts about 15-20 minutes. The last set of burlesque performances lasts until about 1:30 a.m., so bring some comfortable shoes! Dancing then takes place until closing time.
If you arrive between 9:00 and 9:30, make sure to purchase you tickets from the box office first. There's a discount ("KGB discount) for those who arrive early, so you'll pay only $10.00 cover instead of the normal $15.00. Once you get the hand stamp, you'll be free to exit the club and return before the show begins. You can also purchase tickets in advance online from
dnalounge.com
for $12.00.
The DNA Lounge is located at 375 11th Street in San Francisco (
map
). If you're driving, there's usually plenty of parking on 11th just past Howard.
отлично провести время на выставке! (Have a great time at the show!)



Greetings Comrades! Is Time For...



Hubba Hubba Revue SOVIET UNION!



FRIDAY, January 14th 9PM
...
Tovarisches! People's Burlesque show, Hubba Hubba Revue, celebrates Glorious Nation of Soviet Union with night of Curvy Cossacks, Buxom Bolsheviks and enough Marxist Mayhem to fill a Soyuz Rocket!

Peruse this Parade of pre-Perestroika Performers!

THE SHANGHAI PEARL! (Seattle, pictured)
MS. LUISA! (Minneapolis)
Sister Kate!
Little Miss Never!
The Twilight Vixen Revue!
Casey Castille!
Sparkly Devil!
Acrobats Ladybug & Crow!
Miss Balla Fire!
Your Little Chernobyl!
Vienna LaRouge!
Tim Barsky & Friends!
Vera DeVille!
Lady Satan!
Fever Blister!
Kellita!
Gorilla X!

...and The Hubba Hubba Go-Go Submariners!

Live! From Eastbania! Musical Guests

BROTHERS HORSE!
http://www.myspace.com/brothershorse

KGB DISCOUNT: from 9:00PM-9:30PM, tickets at box office are just $10!

HELP SPREAD THE REVOLUTION! TELL A COMRADE TODAY!

Hubba Hubba Revue: SOVIET UNION!
Friday, January 14th, 9PM
DNA Lounge, 375 Eleventh Street, SF
$15, 21 & Up w/valid ID
($12 advance tickets at www.dnalounge.com )

--------------------

See more at:

http://www.hubbahubbarevue.com

http://www.dnalounge.com

Join Glorious Facebook-Army of Hubba Hubba Revue!
http://www.facebook.com/group.php?gid=22983060922

Twitter-updates from Mynx d'Meanor & Comrade Tang!
@hubbahubbarevue)

---------------------

HUBBA HUBBA REVUE is brought to you by:

Dark Garden Corsetry!
http://www.darkgarden.com/
YBR Promotions!
http://www.ybrpromotions.com/
Bombshell Betty's Burlesque & Pin-Up Classes!
http://www.bombshellbetty.net/
Casey Castille's Trash & Rock & Roll Fitness!
http://www.professionalmuse.biz/