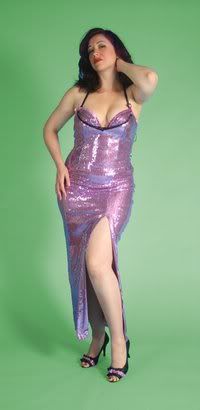 Bombshell Betty
—renowned burlesque performer, producer, and instructor—has a show coming up as well as several classes that will be starting soon!
On Tuesday, January 11, see "Back Country Burlesque" at the
Elbo Room
in San Francisco! It'll be an evening of down-home entertainment with Bombshell Betty, her
Burlesquteers
, and
Fromagique
. The doors will open at 9:00 p.m., and the show will start at 9:30. Tickets are $10.00 for general admission, but a limited number of tables for two will be available for $30.00. Yee haw!
And don't forget that Bombshell Betty has a show every second Tuesday at the Elbo Room! Yep, next month there will be a show with a new theme! And if you miss this particualar show, "Back Country Burlesque" will appear at the Uptown's
Hubba Hubba Revue
show on Monday, January 17! Boy howdy, that's convenient for all you East Bay residents!


Back Country Burlesque w/ Bombshell Betty, Burlesqueteers & Fromagique

Enjoy and evening of Rockin' Rural entertainment Featuring: Country Picnics, Rodeo Sweethearts, Line Dancing Ladies, Trailer Park Hyjinks, and more!

...Burlesque acts by:

- Bombshell Betty!
- Red Velvet!
- If-N-Whendy!
- Dangerous Delilah!
- Pearl E. Gates!
- Pickles Kintaro!
- Mint Julep!
- Sindee Rose!
- Andi Stardust!
- Laika Fox!
- Baby Blue Boom Boom!
- Cinnamon Stick!
- Wanda Wonderland!
- Nicky Cola!
- Kitten Kandy!
- Mistress Marla Spanks!
- Pyro Pantera!
- Velvet Vixen!
- Lezzie McFaggerson!
- PLUS Burlesqueteers so new they don't have stagenames yet!

MC's Patina DeCopper and A. Randy Johnson

With live musical accompaniment by San Francisco's cheesiest band:
FROMAGIQUE (Bombshell Betty, Patina DeCopper, A. Randy Johnson, B.J. Johnson (no relation), Bari D. Hatchet, and Damon Hope)

* * *

Tues. Jan. 11th, 2011
@ The Elbo Room
647 Valencia St (2 blocks from 16th St. BART)
Doors @ 9PM Show 9:30PM

$10
21+ W/ ID

Want a table for two?
$30, arrive early!

* * *

http://www.bombshellbetty.net

http://www.myspace.com/fromagique

http://www.elbo.com
And if you like what you see, why not enroll yourself (or a friend!) in one of
Bombshell Betty's Burlesquercise
classes? Her "Intro to Burlesquercise Mini-Session" begins on Wednesday, January 19. It's $75.00 for the three class mini-session, and all the classes will be held at Bombshell Betty's studios in San Francisco.
There will also be Burlesque Intensive I and II classes starting in February. Confused about which of the three to take? Betty has put together a guide to help you choose as well as brief class descriptions of all three below. And if you know which class you want to take, follow the links to register!

___NOT SURE WHICH BURLESQUERCISE CLASS TO TAKE?___

- Are you not sure you will like Burlesquercise, and you just want to try it out and maybe perform a group number? Try the Intro series!

- If you want to learn all the basics you need to know to start performing burlesque (solos AND group numbers), then try the Intensive I.

- If you already have experience performing burlesque or have already taken the Intensive I and want to take your performance to the next level, take the Intensive II!

- If you have already taken any of the Burlesquercise series, but you would like to repeat the series because sometimes it is a LOT of information to take in, and the repitition will help you... go for it! We have a lot of people who take a series more than once to make sure they really get it all down. :)

Read below or follow this link for more details:
http://www.bombshellbetty.net/burlesquercise.html


___INTRO TO BURLESQUERCISE___

Starts Wednesday, January 19th, 2011! Want to join in on the fun, but you can't commit to the whole enchilada? Learn the basics of burlesque dancing and shake your stuff with some fun choreography in the next 3-class Intro to Burlesquercise Mini-Session.

http://www.bombshellbetty.net/burlesquercise.html



___BURLESQUERCISE INTENSIVE I: Break into the Bump and Grind!___

Starts February 16th, 2011! In this 12-week intensive, you will learn everything you need to know to get started in burlesque! By the time you finish this course, you will have a strong foundation in burlesque movement, a solid stage persona, and the ability to fully engage your audience while telling your story through burlesque striptease. You'll know how to incorporate props into your act, including using your clothing as props and twirling nipple tassels. You'll have created signature moves and learned how to invent your own dance moves for the stage. PLUS MUCH MORE! Want to stand out from the crowd? Go from "wanna-be" to "gotta-see" in only 12 weeks!

http://www.bombshellbetty.net/burlesquercise.html


___BURLESQUERCISE INTENSIVE II: Advanced Techniques and Performance
Developement!___

Starts February 3rd, 2011! In this 12-week intensive, you will learn: Advanced prop work. Learn fan dancing, chair dancing, plus using parasols, clothing, canes, and more! Advanced stage presentation and working your audience - get the reactions you want! Hands-On Burlesque Costuming Workshop included! Basic and Advanced Pastie Making Workshop included! Development of professional marketing materials! How to get booked and GET PAID to perform! PLUS MUCH MORE! Want to stand out from the crowd? Go from "wanna-be" to "gotta-see" in only 12 weeks!

http://www.bombshellbetty.net/burlesquercise.html

For more information about Bombshell Betty and her shows and classes, please visit
BombshellBetty.net
.