There will be quite a change at the El Rio this Friday. Red Hots is moving from indoors to the outdoor patio! Plus, the show is free! Can't beat that, can you?
Yes that's right we're giving it away for free! Red Hots Burlesque is thanking you for all the support you have given the past several months by giving you a free show! The night includes debut performances by ORCHID BELLY DANCE and MISS HONEY PENNY! As well as a long awaited performance by HONEY LE BANG! LADY MONSTER will be on set go-going! And we'll all be celebrating SUZAN "The Cruise Director's" Birthday with some amazing go-go by her and JOANNA of the HUSLTERINAS! We also have a very special out of town guest from SEATTLE---welcome LOLITA TATAS VALENTINO!!!!

It really will be a show like none other all hosted by MARGARET FRANCE!!

What: Red Hots Burlesque
When: 7-9pm, Friday, July 18
Who: Orchid Belly Dance, Miss Honey Penny, Honey Le Bang, Lady Monster, Suzan and Joanna of the Hulsterinas, Lolita Tatas Valentino
Where: El Rio, 3158 Mission St., San Francisco
How Much: Free, 21+ w/ID

http://www.redhotsburlesque.com
http://www.elriosf.com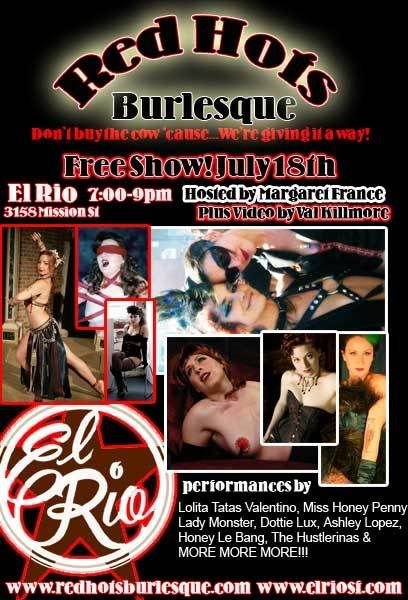 Oh, that Margaret France is a hoot! You could check out this show, then head on over to Hubba Hubba at the DNA Lounge!