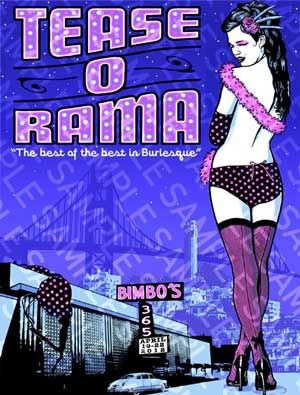 Tease-O-Rama
is back this weekend! It's been almost four years since the last TOR in October of 2008, but it's back and better than ever! (Buy the poster to the left by
Lucky Mule
at
www.teaseorama.com/2012/merchandise/
)
What is Tease-O-Rama? It's essentially California's burlesque festival! It's often credited with helping to start the current burlesque revival when it debuted in New Orleans in 2001. In addition to two evenings of burlesque featuring some of the best performers from around the world, there are classes and workshops, special events, and even an opening night party thrown by San Francisco's own
Hubba Hubba Revue
!
Who will be performing at
Bimbo's 365 Club
on Friday and Saturday evenings? Current Reigning Queen of Burlesque Miss Indigo Blue! Former Miss Exotic Worlds such as Catherine d'Lish, Michelle L'amour, Kalani Kokonuts, Kitten de Ville, and Dirty Martini! San Francisco's own Kitten on the Keys! Local favorites such as the Twilight Vixen Revue, Bunny Pistol, Sparkly Devil, Molotov, The Devil-Ettes, La Chica Boom, Kellita and The Hot Pink Feathers, and Honey LeBang, and Alotta Boutte! Former locals such as Delilah and TwinkleToes McGee! Legends such as Kitten Natividad, Ivy Tam, Shannon Doah, Grant Avenue Follies, and Satan's Angel! And Zumanity, the sensual side of Cirque du Soleil! Plus many, many more! For both shows, doors open at 7:00 p.m., and the shows start at 8:00.
In addition to the Friday and Saturday shows at Bimbo's 365 Club, the Hubba Hubba Revue will be having an opening night party at their old haunt, the
DNA Lounge
, on Thursday evening. This show will be special because the lineup will be filled with visiting performers such as Evie Lovelle (Los Angeles), Cha Cha Velour (Las Vegas), Penny Starr Jr. (Hollywood), Ruby Joule (Houston), and many more, including some hometown stars and even local legend Isis Starr! The doors open at 8:00 p.m.
There will also be classes and special events happening at Tease-O-Rama, too! These will happen during the daytime and will occur (or meet) at the official hotel of Tease-O-Rama, the
Holiday Inn at Fisherman's Wharf
and the Holiday Inn Express down the street. Some of the things you may learn about include creating Pin Up hair, becoming a DIY Showgirl, fan dancing, or putting on a burlesque show! You may also go on a photo safari with pin up models, take part in a Dr. Sketchy's anti-art school session, or share tea and gossip with some of the legends of burlesque! It appears that there is still space available for these events, so find out more about them and reserve a spot by clicking on "Activities and Special Events" at
teaseorama.com
. A tip is to arrive early for your class to find out where it is. I'm guessing they'll be in the hotel meeting rooms, but you'll have to find out which one. As a result, it would be good to get there at least 30 minutes early to find out exactly where it is. Or ask way ahead of time!
One of the cool things about this festival is you can pick and choose what you want to see and do. Right now, there are still $40.00 tickets left to see the show on Friday night at
Bimbo's 365 Club
, so you can buy that ticket or tickets now. And if you want to take a class or special event, you can reserve your space at
teaseorama.com
. Many of the classes are just $12.00! Or you can
buy a ticket
to the Thursday night Hubba Hubba Revue opening night at the DNA Lounge for $12.00. You don't have to spend all weekend at the festival!
There's an abbreviated description of the festival below, but for a complete listing of events and performers, please visit
teaseorama.com
.
Baby Doe Productions and Liftoff! present.... Tease-O-Rama!!


It all started here! Tease-O-Rama - The Number One Name In Burlesque—is back and better than ever! All the glitter, all the glamour, all the gals and all the gags return to San Francisco for 4 madcap days and nights of mirth and mayhem! See our main showcase at the beautiful Bimbo's 365 Club featuring almost 200 performers from around the world, with a special guest headlining appearance from Cirque Du Soleil's Zumanity, Catherine D'Lish, Dirty Martini, Michelle L'amour, Kitten on the Keys and live on stage Legends of Burlesque: Russ Meyer's own Kitten Natividad and The Devils own Mistress: Satan's Angel (who got her start right here in San Francisco back in 1961!)!

Take classes in the art of burlesque from today's top stars from around the globe, get a make-over and pin-up photo taken, meet the Legends of yesteryear at our Sunday Tea & Gossip brunch, and rub shoulders (and who knows what else!) with this year's headliners at our Thursday Night Meet & Mingle!

It's jaw-dropping entertainment by night, how-to classes by day…. See the show this year--BE the show next year! Ooh La La!!

Show and Daytime Class Tickets now on sale!!
WWW.TEASEORAMA.COM

Thursday April 19th
Hubba Hubba Revue's Tease-O-Rama Pre-Party!
The DNA Club: 375 11th Street, San Francisco CA
Doors 8pm, show 9pm (21+)
$15/$12 advance

Friday and Saturday April 20th and 21st
Tease-O-Rama Main Showcase
Bimbo's 365 Club:1025 Columbus Avenue, San Francisco CA
Doors 7pm, show 8pm
$40 general ticket per evening $150 Deluxe Pass

Sunday April 22nd
Tea & Gossip Brunch with The Legends of Burlesque!
Holiday Inn Fisherman's Wharf
Doors: 11:30am
Pre-Sale Tickets Only: $45

Tease-O-Rama Line-Up!
(in alphabetical order!)
Alotta Boutte - SF
Amber Ray - NYC
Angelique DeVil - Portland
Bettie Blackheart - Finland
Blue Morris - Vancouver BC
Bobbie Burlesque - Hollywood
Bobby Barnaby - SF
Bohemian Brothers - SF
Bombshell Betty's Burlesqueteers - SF
Bunny Pistol - SF
Burgundy Brixx- Vancouver BC
Cabernet Dance - Las Vegas
Catherine D'Lish
Cha Cha Velour - Las Vegas
Chadd Behavior - SF
Charlotte Treuse - Portland
Cherry Typhoon - Japan
Clams Casino - NYC
Clandestine - SF
Coco Lectric – Austin
Cynthia Yee (Legend)
Darlinda Just Darlinda - NYC
Delilah - NYC
Dirty Martini - NYC
Dottie Lux - SF
Double Dang Duo – SF
Ellion Ness (Legend)
Eva D'Luscious - SF
Eva Mae Garnet - San Diego
Eva von Slut - SF
Evie Lovelle - LA
Fisherman and Kitty Chow - NYC
Frenchie Kiss - Chicago
Freya West - Nashville
GiGi La Femme - Nashville
Gin Minsky - NYC
Grant Avenue Follies (Legends)
Holiday O'Hara (Legend)
Honey LeBang - SF
Honey Touche - Denver
Hot Pink Feathers - SF
Isis Starr (Legend)
Iva Handfull - Seattle
Iza la Vamp – LA
Ivy Tam (Legend)
Jo Boobs and the Titillations - NYC
Jolie Goodnight - Austin
Julie Atlas Muz – NYC
Kalani Kokonuts – Las Vegas
Kellita - SF
Kitten Natividad (Legend)
Kitten on the Keys – SF
Kitty Baby – Seattle
Kingfish of the Hubba Hubba Revue - SF
La Chica Boom - SF
Lady Ginger - Chicago
Lili VonSchtupp - LA
Lola The Vamp- Austrailia
Los Shimmy Shakers - SF
Lucy Flawless & Bazuka Joe - Chicago
Madeline Sinclaire - LA
Meghan Mayhem - Portland
Melody Mangler & Lola Frost - Vancouver, BC
Michelle L'amour - Chicago
Mimi Le Meaux - San Diego
Minnie Tonka - NYC
Miss Indigo Blue - Seattle
Molotov - SF
Ms. Redd - Las Vegas
Mynx d'Meanor - SF
Ooh La La Bellydance - LA
Ophelia Flame – Minneapolis
Pat Chin (Legend)
Penny Starr, Jr. - Hollywood
Polly Wood - Seattle
RedBone - Minneapolis
Roky Roulette - SF
Ruby Champagne - LA
Ruby Joule - Austin
Satan's Angel (Legend)
Shabnam Du Ventre - SF
Shannon Doah (Legend)
Sparkly Devil - SF
Stella Starr - U.K.
Stormy Leigh - Tucson
Szandora - SF
Tana the Tattooed Lady - Portland
The Booby Trap Players - Seattle
The Devil-Ettes - SF
The Jigglewatts Burlesque Revue - Austin
The Scarlet Ladders - SF
The Scenic Sisters with Wiggy Darlington! - SF
The Schlep Sisters - NYC
The Shanghai Pearl - Seattle
The Twilight Vixen Revue - SF
TwinkleToes McGee – Detriot
Velvet Ice (Legend)
Viva Le Fever (Legend)
Violetta Beretta - Hawaii
Vivian MirAnn - New Mexico
Vivienne VaVoom - Denver
Zumanity - Las Vegas

PRESS INQUIRIES, PECULIAR INFORMATION, AND JUST PLAIN DON'T KNOW WHO TO TALK TO:
info@teaseorama.com

http://www.teaseorama.com/

+++++

Zumanity™, The Sensual Side of Cirque du Soleil™ is a provocative cabaret-style production with a Cirque du Soleil® twist. Sexy, funny and acrobatic, the adult-themed 90-minute production blends playful innuendo with daring eroticism in the intimate Zumanity Theatre at New York-New York Hotel and Casino in Las Vegas. Two of the show's many colorful characters, resident "sexperts" Dick & Izzy, are coming to Tease-O-Rama to peddle Izzy's newest invention – Scotch Baggies. She will explain how to make them, how to drink them, and one lucky audience member will even get to make sure they feel real.
(Edited on Friday, April 20: Added information about some daytime activities being at the Holiday Inn Express and to find out where they are in advance.)