Alright, cats and kittens! We got two shows for ya'll today, this fine and hot weekend. The first show is the weekly Red Hots Burlesque at the El Rio in the Mission.
Red Hots Burlesque! *Kingfish hosts a bevy of beautiful babes*



You know and love the driving force behind Hubba Hubba and Red Hots Burlesque is *proud* to welcome his brand of (bulldog) humor. Welcome back, KINGFISH! He is joined by an amazing London-based Australian burlesque artist and belly dancer, Miss Sapphria as well as Miss Honey Penny (with surprise guest Ruby White), Mariel A La Mode, Delilah and Dottie Lux. So come this week and see what all the fuss is about!

The Show also includes a filthy and freaky film reel from the insane mind of Val Killmore, Grab a drink, some *free* Oysters and BBQ at El Rio's famous happy hour (Recently voted "THE BEST OF THE BAY" by the Guardian) and watch the best in bump and grind!

This Friday, Sept 5th at El Rio
3158 Mission Street
The Show starts at 7:30pm! So don't be late!
Win the Raffle to donate to your favorite Charity or Non-profit!
$5-10 sliding scale, 21+ w/ID


Oh, that Kingfish. He's always surrounded by beautiful babes, both onstage and off! I guess it's good to be Kingfish...hehe.
And, just after Red Hots comes
First Friday Follies
across the Bay! In fact, Dottie Lux is scheduled to perform at FFF, so wave to her if you see her crossing the Bay Bridge!
As usual, FFF starts pretty much at the end of the monthly art walk. So, after you've dropped into some galleries and visually consumed some fine art, you can catch a free show at the Stork Club. They've got some premium performers including the Devil-Ettes, Dottie, sASSy HotBuns, musician Mark Growden, host Scotty the Blue Bunny, and the show's producers, the Belles du Jour!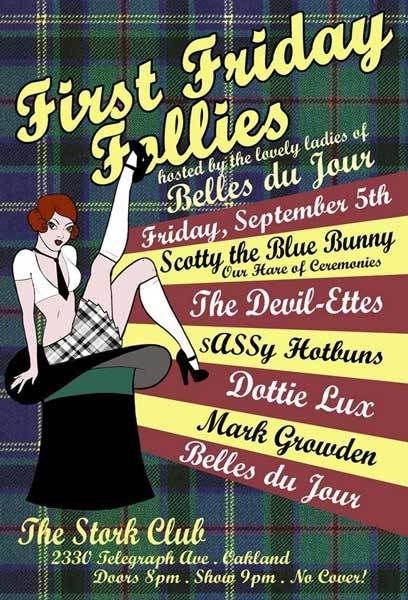 Also this Saturday and Sunday, there are some shows featuring Kellita and the Hot Pink Feathers. On Saturday and Sunday, Kellita will be performing as dancer and actress Lola Montez (
Wikipedia entry
) in the park in Union Square. It's a free "living history" show being presented by the Fringe Festival and Greedy Fish.
Saturday, Sept 6: Shows at 5:15, 6, and 7pm
Sunday, Sept 7: Shows at 12:15 and 1pm
Then, on Saturday evening, the Kellita and the Hot Pink Feathers will perform with Blue Bone Express at Cafe Van Kleef in Oakland:
BURLESQUE N' BRASS



Hot Pink Feathers and Blue Bone Express

CAFE VAN KLEEF
1621 Telegraph in Oakland
Doors at 8:30pm, show at 9:30 sharp

$10, 21+ w/ID

http://www.hotpinkfeathers.com |
http://www.blueboneexpress.com |
http://www.cafevankleef.com
So lots of opportunities this weekend to catch some of great burlesque acts at little or no cost! And it's a great date idea, too! (Dates not included with shows, patrons are responsible for bringing their own ;-))