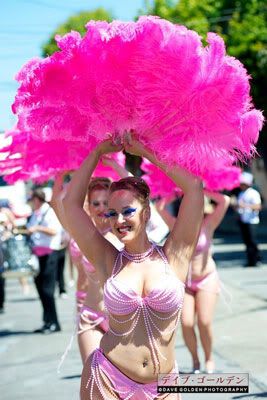 Hot Pink Feathers - Photo by Dave Golden
If you're headed out to the
SF Pride Parade
on Sunday, June 24, be on the lookout for the
Hot Pink Feathers
! They'll be #143 (processed for the parade with the Berkeley Free Clinic) in the parade, and they'll start out in area K - Beale between Market and Mission Streets.
If you're so inclined, you can say hi and meet the Feathers before the parade. They should be at the aforementioned starting location until about 11 a.m, when they'll think they'll start to move. The parade itself starts at 10:30 a.m., and it'll be on Market Street between Beale and 8th Street. You may find a map of the route at
sfpride.org/parade/route.html
.
You'll also be able to meet the Feathers at the after-party to be held at the
Casanova Lounge
, located at 527 Valencia Street (
map
). They're scheduled to be there somewhere around 2:00 or 3:00 p.m., where they will have an informal show with their All-Star Marching Band.
The Feathers will also be participating in the
July 4th parade in Alameda
. So if you'll be in the area, you may want to check out the parade.
If you're interested in joining the Hot Pink Feathers, or just want to learn to dance like they do, check out
hotpinkfeathers.com
, where you can learn about the classes they have. Whether you're a newbie, or if you have years of dancing experience, they'll have a class at a level suitable for you!
Hot Pink Feathers and the SF Pride Parade

Join Hot Pink Feathers in celebrating PRIDE! We're marching in the parade, and are then headed to the Mission for an after-party. Meet us before the parade, or revel with us afterward!

PARADE:
*Line-up number & location: #143; K - Beale between Market & Mission
*We'll stage here until 11 a.m. when we anticipate beginning to march.

AFTER-PARTY:
Casanova, 527 Valencia, SF (b/t 16th & 17th)
*We'll arrive here about 2/3 p.m.; we'll do an informal show with our Hot Pink Feathers All-Star Marching Band!


http://sfpride.org/

https://www.facebook.com/pages/San-Francisco-Gay-Pride-Parade/141108725963362

http://www.casanovasf.com/

http://hotpinkfeathers.com