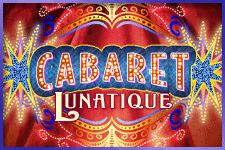 This Saturday night at the glamorous Spiegeltent on Pier 29, Seattle's
The Shanghai Pearl
will be starring in
Teatro ZinZanni's
Cabaret Lunatique
. This will be the first in a series of late night cabaret shows throughtout the year focusing on the neighborhoods of North Beach, Mission, Castro, Fillmore/Jazz, Haight Ashbury, SOMA, On the Waterfront and The Hills.
This first cabaret is "Celebrate Chinatown." Also on the bill are local indie rock band
Johnny Hi-Fi
, aerialist Alexa Hukari, SF Opera Adler Fellow baritone
Ao Li
, acrobat and magician
Calvin Kai Ku
, and acclaimed musician
Bei Bei Zheng
! It is sure to be an evening of stellar entertainment with a diverse group of acclaimed performers!
These cabarets are a great way to get the Teatro ZinZanni experience late at night and at an affordable price. Tickets are $25.00 for general admission, and $35.00 for premium seating, and they may be purchased online at
love.zinzanni.org/tickets.htm
or by calling their box office at 415-438-2668. You may also purchase tickets in person at the Teatro ZinZani box office at Pier 29 (click on the previous link for box office hours). Just remember to buy tickets in advance! The previous series of cabarets in 2008 sold out!
The doors open at 11:15 p.m., so you can catch the show even if you have a late dinner or see another show first! Drinks and light food will be available at an additional cost.
The show will be at Teatro ZinZanni's Spiegeltent at Pier 29 on the Embarcadero in San Francisco (
map
). There is street parking in the surrounding neighborhoods, but be aware of parking restrictions and meters.
And you'll want to check out Teatro ZinZanni's "Caliente!", now playing.
Christine Deaver
and Robert Lopez (
El Vez
) play a brother and sister who lead a rebellion of their international cast (playing the kitchen staff) in their efforts to live out their show biz fantasies in the Spiegeltent! Please see the website for more information.

Teatro ZinZanni presents Cabaret Lunatique's "Celebrate Chinatown"

Teatro ZinZanni announces Cabaret Lunatique, a series of nine late-night cabarets each focusing on a distinctive San Francisco neighborhood. Beginning March 19 with "Celebrate Chinatown," the zany performances will showcase many local artists in a late night varieté spiced with saucy cabaret, crazed circus, scandal, music and mayhem – all held in the gorgeous, glamorous Spiegeltent on Pier 29. First launched in 2008, Teatro ZinZanni's cabarets all sold out and are now back by popular demand. Eight additional evenings are scheduled for the remainder of the year focusing on the neighborhoods of North Beach, Mission, Castro, Fillmore/Jazz, Haight Ashbury, SOMA, On the Waterfront and The Hills.

"Celebrate Chinatown" features local artists from the Bay Area including comedian Kevin Camia; Indie Rock band Johnny HiFi; aerialist and Bay Area favorite Alexa Hukari and baritone Ao Li from the San Francisco Opera's Adler Fellow Program. They will be joined by sizzling burlesque performer Shanghai Pearl (pictured); acrobat and magician Calvin Kai Ku; and acclaimed Gu Zheng musician Bei Bei Zheng.

Cabaret Lunatique debuts March 19 with "Celebrate Chinatown." Doors to the lobby will open at 11:15 PM. Admission is $35 for premium and $25 general admission.

21+

The show will be in the Spiegeltent on Pier 29, The Embarcadero (at Battery Street), San Francisco, CA.

Impress us with your attire! Fantasy costumes most welcomed.

Drinks and light food will be available at an additional cost.


http://love.zinzanni.org

http://cabaretlunatique.org